"You're not bozos. I only called you that because I find the Wells very annoying... Present company excluded. But you know what you are? You're a daily reminder that even though we may all look the same, we're not the same... because you're all good men. And I'm... I'm not."
"So you're a selfish jerk. Hmm. You think that I wasn't? That we all weren't? Hell, when I met this team, I was working for Zoom. H.R. lied. Sherloque... kept secrets. We all came here broken men. Thanks to Team Flash, eventually we learned to be better. That's why I believe in you, Nash. There's a good man in there somewhere. You just need to dig him up, let him breathe."
—Nash Wells and Harry Wells (inside Barry Allen's mind)
"All's Wells That Ends Wells" is the first episode of the seventh season of The Flash, and the one-hundred-thirty-fourth episode overall. It aired on March 2, 2021.
Synopsis
Plot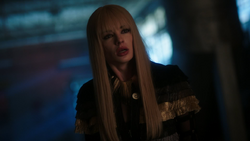 Chester is sitting in the Cortex jamming to music as he reads a science book written by Meena Dhawan. An alert occurs that causes Chester to release Barry from his Cryogenic-sleep state presumably to maintain his remaining speed. The Flash speeds through the city in an attempt to capture Eva as she conveys through all reflective surfaces all over the city skyline. They both crash through a high rise seemingly about to face off, Flash attempts to strike only for Eva to move out of the way before he does so claiming she is able to move at the speed of light and her win was inevitable. Eva glides her way through making her way into a warehouse explaining her goal is to cleanse all of Carver's influence by ridding anything of Black Hole. Chester reveals to Flash that the warehouse Eva is currently in also includes Mirror Master and Top. Eva finds her target and shoots at Scudder who then shatters, killing him. Eva explains to Dillon seemingly in shock that Scudder wasn't really killed and it was one of her mirror duplicates indicating the real Mirror Master is alive in the Mirror Dimension. When Flash finally arrives at the warehouse Eva and the others are gone besides Top who rocks herself near Scudder's remains.
Barry and Iris are having a romantic evening together as they eat food from Paris, the Arctic, Kansas State and Big Belly Burger. Iris states she has to return to work and explains where her employees had gone only to get to Kamilla realizing she was still missing. Iris senses something is wrong and her Neural Dissonance begins to overwhelm her. Flashbacks of her time in the Mirrorverse return to her as she registers she was still in the Dimension as everything was still backwards.
Barry, Joe, and Cecile are all in the Captain's office as Barry explains last night's confrontation with Eva. Cecile questions Barry's speed as Joe questions the involvement of Scudder and Dillon. Barry explains they both were working for Black Hole and the reason for Eva "killing" Scudder was that they were getting in her way. Cecile brings up the framing of Sue and states both she and Ralph have fallen off the grid. Joe is just about to question Dillon, when Cecile jumps in stating she'll extract information from her as she was her prosecutor from a previous case.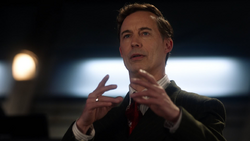 Back at STAR Labs , Nash and Chester are still working on the Artificial Speed Force and trying to get it up and running. Yawning from exhaustion Chester nearly touches the fusion sphere that powers the A.S.F. before Barry moves him out of the way. Barry and Chester leave the speed lab leaving Nash alone. The phantoms of Harry, Sherloque, H.R., and a new Wells show up to help Nash come up with a power source for the Fusion Sphere. The Wells' explain that since there are multiversal particles within Nash, if he transfers them to the sphere it could power the Artificial Speed Force which would be enough to power it indefinitely. Unfortunately for this to work Nash must die being the receptor to the Sphere in which Nash declines to give his life for.
Back in the Mirrorverse, Iris attempts to message Kamilla only to be interrupted by a mirage of herself looking the way she appeared the day Barry woke up from his coma.
At McCulloch Technologies , Eva reads an article about reinstating her role at the company. She fumbles around with a USB left by her late husband and decides to look through it only to find a video file that was left for her. Out of fear what she'll find she disconnects the drive.
While being interrogated, Dillon claims she doesn't know where the Black Hole items were being moved. Cecile, using her powers, brings up that Dillon is lying and faking her emotions so that she wouldn't suspect her. Cecile asks what else Dillon can do with her powers and with that Dillon fosters the doubt within Cecile causing overwhelment of fear in her. The attorney realizes Top sold Scudder out by having him killed by Eva for that in return for a purpose. Dillon claims she whipped up something for Eva and the city will not be ready for it and unravels The Flash won't be able to stop them as she knows he is losing his speed.
Nash frustrated over what other organic power source to use besides himself attempts to find a way through his research. Allegra comes in and an idea sparks in him. He states that if Allegra uses her powers to contain the particles it'll power the Artificial Speed Force. They take a swing at it but Allegra isn't able to contain the energy, Barry moves her out of the way to prevent her from getting hit but instead he's hit with the energy. He comes around a few moments later only for it to be revealed that all the Wells' have been transferred to Barry's mind.
The Wells' interchange with one another due to the overload of them in Barry's mind. Allegra takes fault on what she did but Nash tells her they were just trying to help. Barry starts to seize and falls to floor writhing.
Iris stares at her mirage in shock and confusion. The mirage teases Iris about losing her dissertation and Iris thinks back on the memory of that day. She originally thinks they are a copy of her but the illusion clarifies she's a result of Iris slowly losing her mind. She runs out of the room just to run into another image of herself of the night when she was destined to be murdered by Savitar.
In the Med-Bay, the trio tend Barry as they try to figure out what is going on with him. Chester uses the mobile Gideon Barry created to diagnose his current situation. Gideon clarifies that the particles that were suddenly entered into Barry's mind is overloading his cerebral cortex which is causing it to overload and shut down and that he is only alive due to his Speed Healing. If the particles are still present when his Speed Healing runs out, Barry will die instantly.
The trio spread around the guilt until Chester brings up they need an Organic receptor to diffuse the energy in which Allegra becomes frustrated at Nash for lying to her. Chester and Allegra come up with a plan leaving Nash by himself. He remains in the Med - Bay alone until suddenly Barry awakens, or Harry, and questions Barry's cerebellum. Nash tells him he should rest but Harry refuses. Nash and Harry both have a heart to heart, Nash revealing he shouldn't have survived the Crisis. Harry tells him that every Wells that came to be a part of Team Flash were once broken men but the Team had changed them for the better and there was never one Wells that deserved the privilege that Nash had.
In the Mirrorverse an illusion of 2049 Iris makes her appearance. Iris then realizes that this isn't her mind's doing but of Eva's. She comes face to face with Eva, Iris reassuring her that she will not break but Eva begs to differ.
Cecile returns to interrogate Dillon and appears unimpressed. Cecile reveals to Dillon she is afraid of her powers and turning into someone she isn't. She then uses her powers to counteract Dillon's which Dillon from there begins to talk. Cecile reveals the details to Joe telling him that there is a jet heading over Central City with a bomb implanted and if it explodes hundreds of people will be hurt. Joe reinforces that The Flash isn't able to stop it.
Back in the Speed Lab the team try another go, Allegra attempting to push the particles out of Barry back in Nash. This plan works. The team begins to worry on what to do as the Jet nears the city, in response Nash decides to give his life to the Artificial Speed Force and all the Wells' that had worked with the team before say their goodbye's to Barry. Barry tells Nash there is no Flash without a Wells and Nash contradicts this by telling Barry there is always going to be a Flash with or without a Wells. Barry proceeds to run around the ring in the Speed Lab absorbing the new Speed Force into his system leaving Nash in dust in his wake. Barry speeds off to rid of the bomb off the Jet and succeeds. He returns to find Nash's remains.
The trio are in the lounge mourning over the loss of Nash. Barry expresses his deep sorrow of losing someone else for him and must tell the rest of the team of his death. He also mentions he had felt all the Wells' spirits within him and how much they loved him.
Iris attempts to send a message through her computer hoping it'll arrive to Kamilla and Singh.
Back at McCulloch Technologies Eva still remains in the same place we last saw her. She builds up to courage to take another look at the file. Eva pressing play realizes she's watching footage of the night of Particle Accelerator explosion when the wave of Dark Matter hit her but in this footage it shows Eva slamming the mirror and falling onto the floor killing her. Eva, confused by this, thinks back on what Carver stated as he was dying on how she wasn't real and that the real Eva died on the night of the explosion. Eva rewinds the footage and plays in slow motion only to see two Eva's being separated. One that bounced off the mirror and the other that entered it. Eva begins to think she might be the mirror duplicate of the real Eva which would make Carver's last words true.
Cast
Starring
Guest starring
Uncredited
Trivia
This is the first episode of

The Flash

to feature Kayla Compton (Allegra Garcia) and Brandon McKnight (Chester P. Runk) as series regulars.
This episode takes place 1 week after the events of "

Success Is Assured

".
The reason Iris vanished last episode, was due to Eva teleporting her away after realizing that her and Kamilla working together could allow them to find a way to either escape (eliminating her leverage) or contact Team Flash.
The title is a play on the William Shakespeare play All's Well That Ends Well.
This was the last episode to be produced before production shut down due to the 2019-20 coronavirus outbreak that cut the episode order for The Flash's sixth season short.

With "

Success Is Assured

" being the makeshift season finale for Season 6 according to Grant Gustin, this episode was not aired as part of Season 6.[1]
However, on May 13, 2020, showrunner Eric Wallace stated that filming for this episode was 90% complete when production shut down and said that this episode would now serve as the season premiere for Season 7.[2]
The scene where all of the Wells were channeled before their big sacrifice (excluding Thawne who was a faux Wells) was actually shot before the episode was shutdown in March of 2020.[3]

This episode was originally supposed to air on February 23, 2021 following the premiere of

Superman & Lois

, "

Pilot

". However, because of the special episode

Superman & Lois: Legacy of Hope

, "All's Wells That Ends Wells" was postponed to March 2, 2021.[4]
Nash could tell which Wells were possessing Barry based on their mannerisms; French (Sherloque), energetic (H.R.), dramatic (Grey) and somber (Harry).
The episode title is actually a hidden clue about the fate of Nash and those in his head; "All Wells End" can be extrapolated from it; alternatively it can be seen as "Wells that ends all Wells", referring to Nash's sacrifice.
Chester P. Runk replaces Ralph Dibny in the title sequence. The title sequence also includes Allegra Garcia.
Ralph has gone "very far off the grid" with Sue Dearbon between episodes, allowing his character to be written off.
Eva reveals the first Mirror Master was a mirror duplicate prototype she created, meaning the real one is still trapped in the Mirrorverse and why Mirror Master was so much weaker than Eva.
Sherloque mentions a case he solved on Earth-55 involving the "King Tut killer". This is a reference to the criminal known as King Tut as seen in the 1966 Batman television series.
This is the first season premiere that Tom Cavanagh appeared in since "

The Man Who Saved Central City

" (or "

Flashpoint

", if one includes archive footage as an appearance).
Eric Wallace stated the scene where Grant Gustin played the Wells doppelgängers was "one of my favorite scenes in the history of the series, and certainly in my tenure of being a showrunner".[5]
Barry's mask now appears via nanotech in a manner similar to Star-Lord's mask appears in the Guardians of the Galaxy film.
Right before Sherloque Wells disappears and Harry takes over, he says, "Tu seras toujours mon ami," which translates to, "You will always be my friend."
The versions of Iris in Iris' mind are Iris from "

Pilot

" after Barry woke up from his coma, Iris from several episodes in Season 3 when she was destined to be killed by Savitar, and future Iris from "

Godspeed

" when she was confronted by Nora West-Allen. Brief flashbacks of these episodes are shown when Iris encounters each version of herself.
This is the 21st episode in the Arrowverse, and the sixth episode of

The Flash

, to be named after a character in a civilian sense, after "

Sara

", "

The Secret Origin of Felicity Smoak

", "

Who is Harrison Wells?

", "

My Name Is Oliver Queen

", "

Alex

", "

Zari

", "

When Harry Met Harry...

", "

Run, Iris, Run

", "

I, Ava

", "

Schott Through the Heart

", "

Harry and the Harrisons

", "

Nora

", "

The Virgin Gary

", "

Tender is the Nate

", "

My Name is Emiko Queen

", "

All About Eve

", "

A Girl Named Sue

", "

Alex in Wonderland

", "

Zari, Not Zari

" and "

Whatever Happened to Kate Kane?

".
Goofs
H.R. Wells died over two years prior to Crisis.[6] Therefore, it shouldn't have been possible for him to be in Nash's mind with the other Wellses.

As the Spectre was able to make it so that individuals who'd been dead pre-Crisis (such as Moira Queen and Tommy Merlyn) were alive on Earth-Prime,[7] it stands to reason that he could have also ensured that H.R. Wells was "alive" in Nash's mind. It's also possible that the Wellses who merged with Nash's mind extend to each and every Wells from the old multiverse; even if those Wellses had been dead long before the Crisis occurred.

"

Mother

" confirms that all but 0.01% of the multiversal particles of the Wellses were channelled into the A.S.F. What remained was the real Harrison Wells of Earth-1/Earth-Prime (who'd been murdered in 2000 by Reverse-Flash and subsequently impersonated by the latter); allowing that Wells to be resurrected after what happened here.
References