"I see what is happening to our country. Divisiveness and discrimination. If we want to fight prejudice, people need to know about who we are as aliens and what we do. To lead as an example for others, I must be seen. It's not comfortable to me. But comfort is not my priority right now."
—Amadei Derros to Kara Danvers[src]
Amadei Derros is a resident of National City and an alien healer who heals other aliens; physically and spiritually. Amadei is also the ex-lover of Natalie Hawkings and the father of Elizabeth Hawkings.
Biography
Amadei had a relationship and a child with Natalie Hawkings. He gave out lots of pictures with Natalie and interviews until around 1998, when the two eventually broke up, to which Natalie took custody of her daughter, never telling her about her father.
Amadei then started healing aliens physically and spiritually, but his ultimate goal was to heal the human heart.
At some point, Amadei received a letter from his daughter Elizabeth, engraving her into his mind ever since, and wrote her back.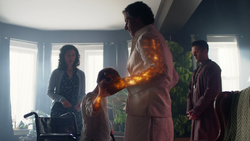 Seeing the divisiveness and discrimination between humans and aliens, Amadei granted Kara Danvers and Nia Nal a chance to interview him. He stated that people need to see him and to lead as an example for others in order to fight prejudice, and that he may not be comfortable with all eyes looking at him, but it is not his priority as of the moment.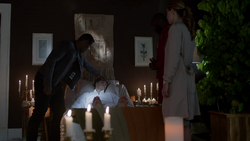 Later that night, Cassian brought Amadei tea by his bed, as he always does. Natalie then stole the amulet on Amadei's chest for the Children of Liberty. His last thought before passing out was his daughter Elizabeth. Next morning, Cassian came to wake Amadei, but the amulet was gone, decreasing his life force. J'onn J'onzz, who was notified by Cassian, and Kara then went to see his condition. J'onn read his mind and saw Elizabeth, to which him and Kara went to her house.
A vigil was set around his home when devotees heard of the attack.
When the D.E.O. retrieved the amulet from Raymond Jensen, J'onn, Kara, and Elizabeth returned to Amadei's house and placed it back in his chest, restoring his health and consciousness. He then saw Elizabeth and thought he was dreaming, to which his daughter said otherwise. Amadei thanked Kara and J'onn for healing his heart by reconnecting him with his daughter.[1]
Personality
---
This section is a stub. You can help expand this section by adding some information.
---
Powers and abilities
Powers
Extraterrestrial physiology: As an alien of an unknown species, Amadei possesses powers.[1]

Abilities via amulet: Using his amulet, Amadei can access his powers.[1]
Weaknesses
Amulet removal: When Natalie removed the amulet from Amadei's chest, he became unconscious and his life force was being drained.[1]
Equipment
Appearances
Supergirl
Season 4
References