Jurassic World: Dominion Dominates Fandom Wikis - The Loop
Play Sound
"Arrive Alive" is the eleventh episode of the second season of Batwoman, and the thirty-first episode overall. It aired on April 18, 2021.
Synopsis
Plot
The False Face Society uses high-speed cars to rob Gotham City Pharmaceuticals for ingredients to make Snakebite while Black Mask forces Angelique Martin into servitude with the threat of chemically burning her face and body, as he explains that only she and Ocean knew how to make the drug euphoric instead of deadly.
Alice is still in Evelyn Rhyme's office, pretending to be the doctor, when Evelyn arrives; Alice kills a patient to show how deadly and serious she is. Alice wants her memories of Kate Kane erased, but Evelyn is hesitant, citing that Kate may represent Alice's good qualities and, without her, Alice will become completely unhinged. While Evelyn pretends to try, Ocean arrives and fights Alice because he wants revenge for his "death" months earlier. During the fight, Evelyn speaks a phrase that paralyzes the combatants, but it also gives the two all of their lost memories. After Ocean reveals that he is in Gotham on the behest of Safiyah Sohail, Alice finally reveals that she still loves him.
Meanwhile, Ryan Wilder begs Sophie Moore to help her to find her past lover, but Sophie has her own plans; Sophie becomes a driver in the gang because the gang still needs Fear Toxin as the last ingredient. However, during the heist, Sophie is apprehended by Batwoman.
Since Sophie failed, Agent Russell Tavaroff is placed in command.
Going rogue because she views herself personally to blame, Sophie gets Ryan to go undercover to infiltrate the gang. Using a car loaned to them by Mary Hamilton and with computer guidance equipment, similar to that of the Batmobile, and intel provided by Luke Fox, Ryan helps to steal the gas and to place a tracker on its container.
Sophie uses the tracker to find Black Mask's warehouse, but she goes solo and gets captured.
When Black Mask decides to kill Sophie, Batwoman arrives and a major fight begins; Black Mask hits Batwoman so hard beneath her cowl that her mouth bleeds. Sophie uses a batarang to save Batwoman's life. At a disadvantage, Black Mask directs the women's attention to a video screen where he shows them that he will have Angelique killed unless he is released; the women comply.
Returning to Angelique, Black Mask learns that she is not as good a chemist as Ocean, frustrating the gang leader.
Agent Tavaroff reviews the video security footage of the fight; he takes a sample of the blood he has found on the warehouse floor.
Sophie inspects the car Ryan drove because she needs to return it to Mary and finds the computer guidance that was used. Hacking the computer, Sophie hears a conversation between Ryan and Luke about the Batsuit and realizes Batwoman's secret identity.
Cast
Starring
Guest starring
Co-starring
Uncredited
Gallery
Videos
Trivia
This is the first episode of the series to not feature Nicole Kang (Mary Hamilton) besides the crossover episode "

Crisis on Infinite Earths: Part Two

", as well as the first she is credited without appearing.
There are several references to the Fast & Furious franchise in this episode.

Ryan mentions that she drifted the entire length of the tarmac like Fast & Furious: Gotham Drift, a reference to the 2006 film The Fast and the Furious: Tokyo Drift.
The plot of the 2009 film Fast & Furious is referenced through the main characters being undercover delivering drugs for a drug dealer, directed by a GPS program in their cars, and disrupting city traffic on their way to the drop-off point.

Russell Tavaroff debuts this episode. In the DC comics, Tavaroff is an enemy of Batwing known as "Menace" who debuted in Batwing #25 (January, 2014).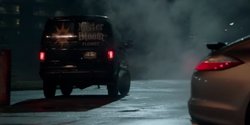 References