National Hispanic Heritage Month is observed in the United States to recognize the contributions and influence of Hispanic Americans. Hispanic culture has had a prominent influence in todays society, including in music, food, and of course pop-culture.
The Arrowverse is no stranger to Hispanic culture. Many characters and actors have Hispanic Heritage. The Arrowverse Wiki is proud to celebrate Hispanic Heritage with Fandom and the contributions they've had in today's society. Below are some beloved Hispanic characters and actors from the Arrowverse.
Characters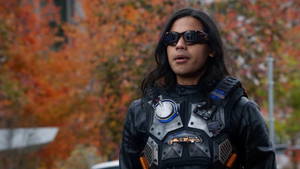 Cisco Ramon, AKA Vibe was a core team member from Team Flash originating from Puerto Rico. He was a mechanical genius and mentee and friend of "Harrison Wells". He was one of the genius engineers behind the construction of the S.T.A.R. Labs particle accelerator.
Cisco eventually grew to become the hero Vibe, after his metahuman powers manifested after Barry Allen accidentally traveled through time. Today, he is the Director of Technology and Science for A.R.G.U.S.
Learn more about Vibe and how he came to be!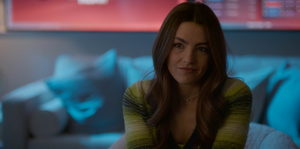 Allegra Garcia is a delinquent turned superhero on Team Flash and writer for the Central City Citizen. Born into a family of crime, Allegra was arrested various times.
Allegra was exposed to the Particle Accelerator energy alongside her cousin Esperanza Garcia, who both gained electromagnetic manipulation powers. While Allegra eventually reformed, her cousin stuck to her criminal ways. Despite this, she made attempts to redeem her cousin.
Learn more about Allegra's path from criminal to hero!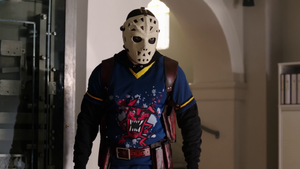 Rene Ramirez, AKA Wild Dog is the vigilante and political figure operating in Star City. After is wife's death, Ramirez became a vigilante to take justice into his own hands. Eventually, he caught the attention of the Green Arrow and was recruited into the latter's team.
Outside his vigilante life, he was Chief of Staff to the mayor of Star City. Eventually, he began his own political career, running as mayor to rebuild the Glades into a desirable place to live in, disgusted by the discrimination his neighborhood faced.
Learn more about how Rene grew into a prominent political figure in Star City!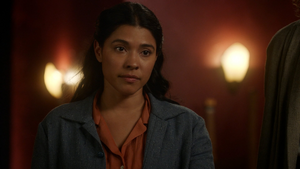 Esperanza Cruz, nicknamed Spooner is the newest recruit of the Legends. Originating from Texas 1925, Spooner was transported by the Fountain of Imperium after the fountain deemed her worthy and gave her powers to communicate with aliens. In present day, Spooner was recruited by the Legends to help find their captain, Sara Lance who was abducted.
Though she was agreed to only stay till they found Sara, she stuck around to avenge her mothers death and eventually grew to be part of the Legends family. She eventually crossed paths with her mother and finally remembered her true origins, and aliens were not responsible for her mothers death.
Learn more about Spooner's journey from outcast to Legend.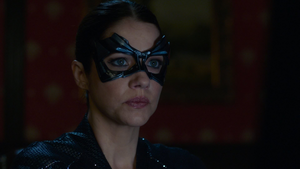 Andreas Rojas, AKA Acrata is a businesswoman from Argentina. She serves are the CEO of Obsidian North and editor-in-chief of CatCo Worldwide Media.
Andrea secret worked as an assassin for Leviathan in the original timeline. Following Crisis, she remained with Leviathan and when activated to take down Supergirl, she was talked down by Lena Luthor to not go down that path.
Learn more about the successful Business woman from National City today!
---
There are many more characters involved! Let us know in the talk page who else with Hispanic Heritage you admire! In the mean time, check out the above pages and help expand on your knowledge on these Hispanic characters. In the meantime, join Fandom's Discord server on our Hispanic Heritage month and learn more about how they had a impact across various Fandoms.