Doctor Strange in The Multiverse o Madness - The Loop
Play Sound

An unnamed woman is a dark priestess and former member of the Children of Juru, she joined Selena and Vita to resurrect Reign and terraform Earth into "New Krypton". However, they were defeated by Supergirl and the Superfriends. She and the coven were arrested and taken back to Argo City by Alura Zor-El to face justice for their crimes.
Biography
Original multiverse
Early life
On Krypton, this woman was a member of the Children of Juru, a coven dedicated to creating "New Krypton" where the old polytheistic deities would be worshipped, including Yuda Kal. For this purpose, the coven created three Worldkillers using advanced genetic engineering and dark magic. When Krypton died, the woman was one of the few survivors of the coven. She lived on Argo City, waiting for the Worldkillers, who were sent to Earth, to awaken.[1]
New Krypton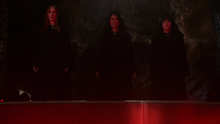 The woman, Selena, and Vita used Kara and Mon-El's ship from Argo City to travel to Earth, where they met Thomas Coville at the Fortress of Sanctuary, She joined Selena and Vita in attacking the D.E.O. to retrieve the blood samples of Purity and Pestilence, she manage to locate Samantha Arias and her daughter but couldn't breach to the protection barer, she than see Alex Danvers almost killing Selena but she manage to save her and fight Alex, Alex fought her with her Kryptonite tech to weaken her and manage to beat Selena and this woman both at the same time. During the fight, she kills multiple D.E.O. including agent Demos that made the ultimate sacrifice to stop them from taking the Worldkiller's blood. But when they retrieve the blood from Supergirl, she escape with the other.[2]
Capture
When Supergirl and her team appears in the fortress while they just finish to recreate reign, she fought the Martian Manhunter and was handcuffed by him before being knock out. After Reign's death, she was taken with her allies to stand trial in Argo City.[3]
Anti-Monitor Crisis
During the Anti-Monitor Crisis, the woman as well as everyone in the multiverse except for the seven Paragons, was killed in an antimatter wave by the Anti-Monitor on December 10, 2019,[4] only to be restored a month later, after the Paragons and the Spectre created a new universe.[5]
New multiverse
In the new multiverse, her story remains the same.[6]
Powers and abilities
Powers
Kryptonian dark magic: As a priestess of the Children of Juru, this woman is adept in manipulating dark mystical forces.[2]

Power imbuing: This woman was one of the many witches who helped genetically engineer and enchant the Worldkillers.

Kryptonian physiology: Normally, like all Kryptonians, this woman's capabilities were no greater than a normal human of her physical conditioning. However, after arriving on Earth and being exposed to the energy of a yellow sun metabolized into her body, this woman became able to perform various inhuman feats.

Solar energy absorption: While this woman's powers are dependent on the energy spectrum from a yellow sun, her body is able to constantly and passively absorb such energy while exposed to it, essentially keeping her reserves fully charged near-constantly. Direct exposure to the light of a yellow sun will also accelerate her recovery from any injuries she does manage to sustain.
Abilities
Occult knowledge: As a dark priestess, she was knowledgeable in dark magic rituals, performing a ceremony to resurrect Reign.[2]
Bilingual: She is capable of fluently speaking English and Kryptonese.[2]
Weaknesses
Kryptonite: Like all Kryptonians, even while empowered, she is vulnerable to the exposure of Kryptonite, a radioactive mineral from her home planet Krypton. Depending on the nature of the said Kryptonite, it will cause a different adverse affect on her:

Green Kryptonite: Green Kryptonite not only physically hurts she, but also it weakens her physical attributes; making her equivalent to that of a normal human. If exposed to enough green kryptonite for too long, it will eventually kill her.
Red Kryptonite: If exposed to Red Kryptonite, it gradually destroys her inhibitions and turns her into a corrupted version of herself. Left without morality, compassion, rationality, or any cares whatsoever, she will become malevolent and, prone to hostility and aggression, making her a danger to everyone around her.
Silver Kryptonite: If exposed to Silver Kryptonite, it will cause she to go in a deep and frightful hallucination where nothing from the outside world can stir her out of it until it leaves her system.

Lead: Even with her X-ray vision; she cannot see through lead.
Appearances
Supergirl
Season 3
Season 5
References
Other versions of Ayala
To see other versions of this character, click the Earth name below for that Earth's counterpart of Ayala.
New multiverse
Earth:
Original multiverse
Earth: 38 • TUD17
Transmultiversal multiverse
Earth: