Doctor Strange in The Multiverse o Madness - The Loop
Play Sound
"Well, we did stop the Children of Liberty from hurting innocent aliens. But Agent Liberty is still out there. And the rhetoric of hate is growing. Just haven't figured out how to win this fight yet. With so many people siding with fear, how far will this go?"
"Call to Action" is the sixth episode of the fourth season of Supergirl, and the seventy-first episode overall. It aired on November 18, 2018.
Synopsis
Cast
Starring
Special guest star
Guest starring
Co-starring
Plot
"Call to Action" begins with two National City inhabitants strolling down the road discussing their preferred pies when they're halting by three men wearing gold covers, defying them being outsiders. The veiled men almost assault them with dogs and bats, however Manchester Black shows up battle them.
The two regular people can escape however the three conceal men before long surpass Manchester. Fortunately for him, Kara in no time shows up from that point to help take the conceal men — adherents of Agent Liberty/Ben Lockwood — down.
Lena and her associate are taking a shot at a test and we discover she's attempting to concoct a remedy for malignancy.
Kara and Alex take one of the Liberty specialists' covers to Colonel Haley, who's disturbed that Kara was watching that territory. Haley advises them two to stop the examination on the counter outsider development.
Lockwood shows up at his home, where his significant other says they'll have the option to make their subsequent straight home loan installment on schedule. Their child calls his folks into the family room, where Lockwood is on the news.
Lena goes to talk with James and presents to him another suit coat, disclosing to him she booked him to show up on the day's Counterpoint Daily news show. She makes reference to she trusts that James decries the Children of Liberty on live TV yet he says he can't make it — he orchestrated a gathering himself with the Children of Liberty. The two offer a strained second before Lena orders James to do the meeting as a piece of CatCo.
J'onn welcomes Manchester Black to a Friendsgiving get-together he's facilitating with Kara and Alex. Manchester thanks his new companion for considering him. After J'onn leaves, Manchester goes into his washroom, where he has one of the Children of Liberty tied up — he starts tormenting his hostage.
Kara and James notice Nia resting at her work area and when they go to wake her up, she forgets about it, disclosing to them she's been experiencing narcolepsy.
At the DEO, Brainy and Alex almost get found researching the Children of Liberty yet they're ready to persuade Haley they're taking a shot at different cases.
James gets together with the Children of Liberty at an unnoticeable area and he leaves with them in their van.
Lena and her right hand are proceeding with their experimentation on restoring hearts with malignant growth. Developing disappointed, Lena arranges her collaborator to burn the heart, however the two before long discover whatever fix they made is making the heart powerful.
Kara takes James' right on the money the TV show and she's being prepared by Nia, who keeps unexpectedly nodding off. Kara's called to the stage, where she's acquainted with the individual she'll be discussing — Ben Lockwood.
James and the Child of Liberty are strolling his pooch, when James gets furious his partner continues alluding to outsiders as cockroaches. The Liberty operator holds looking down at his telephone and inevitably leaves to take a discussion, leaving James to clutch his pooch.
The group begins showing up at Kara's for Thanksgiving supper — the Danvers are joined by their mom Eliza, and Lena, Nia, J'onn, Brainy, and Manchester are all in participation. James shows up and Lena's treating him with utter disdain for proceeding with the gathering. The gathering is plunking down for supper when Nia specifies that she's heard the Agents of Liberty have prepared canines to follow outsiders.
James at that point understands that Tom's canine was yelping aimlessly houses on their walk prior in the day, and the group discovers the gathering has been monitoring the addresses to dispatch an organized assault.
The gathering disbands supper to get ready for the assaults. Brainy's strolling downtown attempting to expel the markings when a gathering of Agents stop him. He's ready to avoid the assault.
Elsewhere,Manchester finds another gathering of Agents and starts shooting them.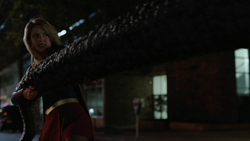 Another gathering of Agents break into a house and begin pounding the father when a little girl name Alana arranges their pet lizard Spike to support them. The reptile at that point transforms into a giant dragon with wings that drive the interlopers off. Still apprehensive for his family, the dragon attacks Alex before being saved by Supergirl, who pulls its tail. Enraged, the winged serpent pursues Supergirl and the two battle mid-air until the dragon hits Supergirl to the ground. After Alex tells Supergirl about the dragon being Alana's pet lizard and they make the acknowledgment they're on a similar side.
Back at the DEO, Haley calls Kara and Alex into her office and advises the pair that the Children of Liberty are presently a need for the organization. Haley pulls Alex aside and discloses to her that she knew everything Alex was dealing with Brainy. The Colonel advises Alex to not do it once more.
Lockwood is viewing the news as he develops disappointed that the Children of Liberty's assaults were arranged. He at that point gets a call from a neighborhood news station saying he's been granted his own show.
The following day, Kara, Alex, and J'onn have their own little supper. The trio is talking when they understand Nia's been lying about her issue.
James gets together with Tom in a parking structure. Tom expresses gratitude toward James for preventing him from propelling an assault, on the grounds that the individuals who participated are currently absent. Tom reveals to him he'll get James direct access to Agent Liberty and following that, a gathering of operators appear and toss James in their van.
Manchester Black comes back to his condo and drops the covers of the specialists he slaughtered on the floor of the restroom. He at that point pulls out a weapon and apparently shoots his hostage off-screen.
Gallery
Videos
Trivia
Goofs
References