"We may not be able to have a perfect Christmas, but we can have a white one."

Christmas is a holiday celebrated on a few Earths in the multiverse. It celebrates the birth of Jesus Christ and is a holy one for Christian churches, like the Catholic Church and the First Assembly of God.
In aberration timelines where Beebo and later Odin, who was impersonated by Damien Darhk, were worshiped, the holiday became known as Beebo Day and Odin Day, respectively.
History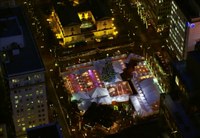 Christmas celebrates the birth of Jesus Christ, but is considered an important holiday even by non-religious people. Christmas is thought to be linked to Christ's divine power in that people expect "Christmas miracles" to happen on the holiday, giving them joy.[1]
Known gifts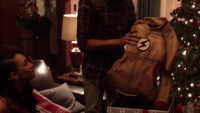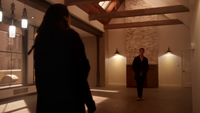 Returned gifts
Holographic cube - Cynthia to Cisco Ramon
Appearances
Arrow
Season 1

Season 2

Season 3

Season 4

Season 5

Season 6

Season 7
The Flash
Season 1

Season 2

Season 3

Season 4

Season 5
DC's Legends of Tomorrow
Supergirl
Season 1

Season 2

Season 3

Season 5
The Chronicles of Cisco
Trivia
In an aberration timeline where Vikings begin worshipping a Beebo toy they mistook for a god, they manage to colonize and conquer North America. As a result, Christmas was replaced with Beebo day. The Legends managed to prevent this timeline from solidifying and replacing the original one.[2]
Sara Lance was born on Christmas in 1987.[3]
References
Community content is available under
CC-BY-SA
unless otherwise noted.