An unnamed creature, nicknamed "Cronenbaby" by Nate Heywood (after a notion of "creating a baby" by Mick Rory), was briefly created by Legends in an attempt to combine the powers of Totems of Zambesi.
Biography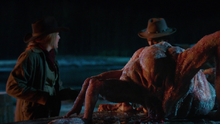 In an attempt to create a creature to counter Mallus, the Legends used the powers of Totems of Zambesi combined with concentration of their minds, but due to faulty thoughts, their first creation become a wretched flesh monstrosity.
After the creation lived for a few seconds, engaging in unknown biological processes and seemingly being in great pain, Mick Rory performed a mercy kill on the creature with his Heat Gun, obliterating it from existence.[1]
Powers and abilities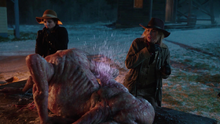 Alternative biology: A living being created completely with magic, the creature possessed deeply unnatural physiology lacking the common logical structure and harmony to it.[1]
Unnatural existence: The creature was able to exist after being fully mind-created via the Totems of Zambesi.[1]
Goo sprinkling: The creature was able to disperse a fluid of unknown origin in a rather large radius.[1]
Weaknesses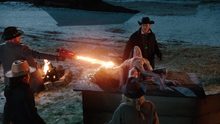 Appearances
DC's Legends of Tomorrow
Season 3
Behind the scenes
The creature is named after cult Canadian film director David Cronenberg, who is known for his body horror movies, which often include creatures with mis-jointed, illogically-structured, and surreal bodies not unlike what "Cronenbaby" possessed.
References
Community content is available under
CC-BY-SA
unless otherwise noted.