Wiki Targeted (Entertainment)
Play Sound
"Everyone in here, we're the most dependable friends the people of Metropolis have. You remember that."
The Daily Planet is a newspaper publisher located in Metropolis.
History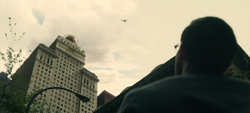 Since Superman emerged as a vigilante in Metropolis, the Daily Planet's popularity skyrocketed, with the superhero often being featured on their stories. Photojournalist James Olsen took the 1st photo of Superman.[1]
Jealous of the fame of Lois Lane, fashion and gossip reporter, Cat Grant, went to Midvale to see if there was a super-powered being there; getting permission from Perry White, Cat promised to send him the story.[2]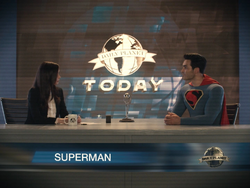 Lex Luthor had a front page article the day he was scheduled to get the Nobel Peace Prize.[3]
Sometime prior to early 2021, Morgan Edge purchased the Daily Planet. Following the purchase, a number of employees were fired, including Clark Kent and Whit.[4]
Instead of allowing Lois Lane to print an article about his dealings in the town of Smallville, Morgan Edge edited the piece to his liking; upon discovering the rewritten article, Lois quit the newspaper.[5] Lois, working for the Smallville Gazette, needed to be reminded that she no longer worked for the Planet.[6]
Known employees
Current employees
Former employees
Appearances
Supergirl
Superman & Lois
Behind the scenes
In the DC comics, the Daily Planet is the daily newspaper of Metropolis and the workplace of Superman in his civilian persona.
References
Other versions of Daily Planet (Earth-Prime)
To see other versions of this location, click the Earth name below for that Earth's counterpart of Daily Planet.
New multiverse
Earth: Prime
Original multiverse
Earth: 38 • 96 • 167 • TUD22
Transmultiversal multiverse
Earth: