"Terra Prime" redirects here. For the universe in the new multiverse, see Earth-Prime.
"This Earth is at the center of the multiverse. It's the access point to every other Earth in existence."
Earth-1, name coined by Martin Stein, was a universe parallel to a plethora of others, supposedly located at the center of the multiverse. To Earth-2 citizens, or at least that Earth's Harrison Wells, Earth-1 was initially thought of as Earth-2.[1][2] Also, to Earth-17's citizens, it is known as Terra Prime.[3] Grodd has referred to this universe as First Earth.[4] After a massive exodus during the Crisis, it became home to 3 billion refugees from Earth-38 after that universe was destroyed by a wave of antimatter. Shortly after, however, the antimatter wave hit Earth-1 as well, vaporizing its population and destroying the entire multiverse with no Earths remaining. It was also the final Earth to be destroyed.
After Oliver Queen died while defeating the Anti-Monitor and reformed the universe, Earth-Prime was formed, which contained most elements of Earth-1, Earth-38, and Earth-TUD5. As such, while this Earth may be physically gone, its people live on as part of Earth-Prime.
Earth-1 was particularly important in that it was a central junction in the original multiverse, being the middle intersection from which one could travel to any other alternate universe.[5]
History
After learning of the existence of parallel worlds, Martin Stein coined the world's name, "Earth-1", to describe Team Flash's relative position in regards to all of the other worlds.[6] Beginning in the early 21st century, the universe became home to numerous groups of extraordinary protectors, such as the vigilante unit Team Arrow, the scarlet speedster known as the Flash and his team of allies who emerged after the explosion of the S.T.A.R. Labs particle accelerator that gave rise and prominence to super powered meta-humans, and John Constantine's group of mystical allies. Even in other times, similar such heroes operated, such as the secret mid-20th century alliance the Justice Society of America, and the time-traveling Legends, who were associated with the top-secret organization of the Time Bureau.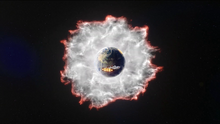 In 2019, during the Anti-Monitor Crisis, a wave of antimatter sent by the Anti-Monitor destroyed this universe, however, with the help of Paragons and the Spectre, parts of Earths-1 were merged with parts of Earth-38 and Earth-TUD5 to form Earth-Prime.[7]
Events (in chronological order)
B.C.
A.D.
Erased future
Timeline alterations
Notable individuals
Residents
Visitors
From an unknown universe/dimension
Known locations
This list addresses locations at a universal scale, such as stars and planets. For locations on a specific planet, see the relevant planet's page.
Appearances
Arrow
Season 1

Season 2

Season 3

Season 4

Season 5

Season 6

Season 7

Season 8
Blood Rush
The Flash
Season 1

Season 2

Season 3

Season 4

Season 5

Season 6

Season 7

Season 8
Constantine
John Con Noir
Vixen
DC's Legends of Tomorrow
Season 1

Season 2

Season 3

Season 4

Season 5

Season 7
Supergirl
Season 1

Season 2

Season 3

Season 4

Season 5
Chronicles of Cisco
Stretched Scene
Freedom Fighters: The Ray
Season 1
Batwoman
Black Lightning
Season 3
Novels
Comics
Arrow
Arrow: Season 2.5
The Flash: Season Zero
Arrow: The Dark Archer
Crisis on Infinite Earths Giant
EARTH-PRIME
The Chronicles of Cisco
Gallery
Trivia
Behind the scenes
References