House of the Dragon Trailer - The Loop
Play Sound
"I think you're remembering that from another time. Another Earth, perhaps."
Earth-38[1] was one of the many universes in the multiverse. It was the home universe of Superman and Supergirl. During the Anti-Monitor Crisis, the entire universe was engulfed in a wave of antimatter, with 3 billion of Earth's citizens surviving due to evacuation to Earth-1, making them refugees. Unfortunately, the antimatter wave would later reach Earth-1 as well, killing all surviving inhabitants except Supergirl, J'onn J'onzz, and Lex Luthor.
After Oliver Queen died while battling the Anti-Monitor and reformed the universe, Earth-Prime was formed, which contained most elements of Earth-1, Earth-38, and Earth-TUD5. As such, while this Earth may be physically gone, its people live on as part of Earth-Prime.
History
"You know J'onn J'onzz from Supergirl's Earth?"
"Of course I know J'onn! Wait, go back...Supergirl has her own Earth?"
"Not anymore."
Alien life was common knowledge for over a decade on the Earth of this universe - in particular, the Kryptonian heroes Superman and Supergirl. Barry Allen accidentally traveled to the Earth of this universe while testing out his tachyon device and was able to return home with Supergirl's aid.[2]
A few months later, Barry and Cisco traveled to the Earth of this universe to recruit Supergirl's help[3] in facing the Dominators.[1]
When Cisco and Gypsy had a duel over the life of H.R. Wells, they crossed the dimensions and landed on this universe's Earth, in the office of James Olsen. They were seen by Eve Teschmacher fighting before vanishing into another breach.[4]
Recently, the atmosphere of Earth-38 had been seeded with a trace amount of lead, making the planet uninhabitable to Daxamites.[5] Though by the 2400's of a now erased future, a cure was invented by L-Corp, allowing said species to stay on Earth without any problems.[6]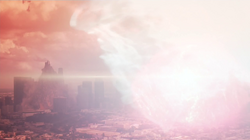 In 2019, a wave of antimatter sent by the Anti-Monitor destroyed this Earth; however, with the help of Lena Luthor and heroes of Earth-1, the heroes of Earth-38 manage to evacuate 3 billion inhabitants to Earth-1. The Monitor predicted that one third of all survivors were saved by Oliver Queen, sacrificing himself to protect the quantum tower protecting Earth-38 from destruction before the tower, the Earth and Queen himself fell,[7] however, with the help of Paragons and the Spectre, the Earths-38, 1 and TUD5 were merged into Earth-Prime.[8]
The Superfriends retain their knowledge of Earth-38 and use its history as a reference point in many of their adventures,[9] sometimes noting the changes between the past and the present.[10][11]
Events (in chronological order)
B.C.
A.D.
Erased future
Notable individuals
Former residents
Visitors
From an unknown Earth
Known locations
Appearances
Supergirl
Season 1

Season 2

Season 3

Season 4

Season 5

Season 6
The Flash
Season 2

Season 3

Season 4

Season 5

Season 6

Seaason 7
DC's Legends of Tomorrow
Season 2
Season 3
Season 5
Arrow
Season 6
Batwoman
Season 1
Comics
Adventures of Supergirl
The Chronicles of Cisco
Trivia
Behind the scenes
References