Wiki Targeted (Entertainment)
Play Sound
"Barry, where's 'there'?"
"My Earth, Earth-90. I've traveled from there to warn you."
Earth-90[1][2][3][4] was one of the many universes in the original multiverse. The universe was presumably destroyed by The Monitor, however any remnants would have been destroyed by antimatter during the Anti-Monitor Crisis.
History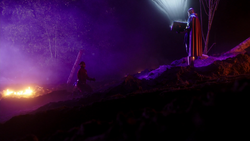 Around 1990, Barry Allen was a scientist who later operated as a speedster known as "The Flash" the hero of Central City. In late 2018, Mar Novu/The Monitor ravaged the Earth of this universe and then used the Book of Destiny to massacre all its inhabitants, leaving Barry Allen as the only known survivor.[1][2][3][4]
It is unknown if Earth-90 was truly destroyed by The Monitor or if it was just a dead universe like Earth-15. However, on December 10, 2019, during the crisis, the entire multiverse was destroyed by the antimatter wave.
Events (in chronological order)
Notable individuals
Residents
Visitors
Locations
Appearances
The Flash (CBS)
The Flash (The CW)
Season 2
Season 5
Season 6
Supergirl
Season 4
Arrow
Season 7
Comics
The Flash TV Special
Video games
Trivia
Behind the scenes
References
Community content is available under
CC-BY-SA
unless otherwise noted.