Wiki Targeted (Entertainment)
Play Sound
"When we restarted the universe, our worlds combined, and only we Paragons know it was ever any different."
—J'onn J'onzz to Sara Lance and Ray Palmer[src]
Earth-Prime is one of the many universes in the new multiverse created during the Anti-Monitor Crisis. It, along with the new multiverse, was created by the Spectre and the Paragons after the Anti-Monitor destroyed the previous multiverse, though at the cost of Oliver's life. It is composed of elements from various previous Earths, such as Earth-1, Earth-2, Earth-38, and Earth-TUD5 in an amalgamation that forms this new reality. A team was later assembled as this Earth's guardians.
History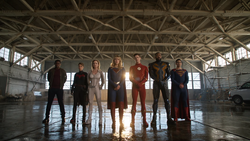 The Spectre created a new multiverse, which included this universe, following the destruction of the original multiverse by the Anti-Monitor.[1]
Due to vibrational frequencies being different in this multiverse, this Earth currently has no access to the rest of the new multiverse by normal means, nor do its occupants appear to be aware of the new multiverse's existence.[2]
The history of Earth-1, Earth-2, Earth-38, and Earth-TUD5 seem to have all still happened with minuscule differences.[2]
Also, certain events have happened differently on this Earth. So far though, only the Paragons and a select few are aware of the changes.[2]
Major events (in chronological order)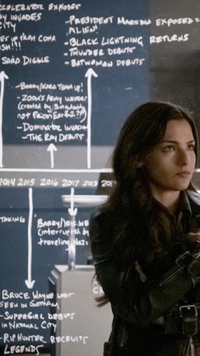 B.C.
A.D.
Possible future
Timeline alterations
Notable individuals
Residents
Refugees from the original multiverse
Visitors
Known locations
Appearances
Arrow
Season 8
DC's Legends of Tomorrow
Batwoman
Supergirl
Black Lightning
The Flash
Mister Parker's Cul De Sac
Superman & Lois
Comics
DC Pride
The Chronicles of Cisco
Trivia
It is unknown why so many refugees from the original multiverse were allowed to remain on Earth-Prime. They were presumably needed on Earth-Prime, their Earth wasn't restored, or The Spectre simply made errors during the creation of the new multiverse. However, in the case of Earth-2 Laurel Lance, he could've done this on purpose.

Luke Fox compared it to putting the Earths in a blender.

The lack of Oliver's body on Earth-Prime is an anomaly. Despite the fact he did exist there; no corpse was found after the multiverse reboot.

His friends mentioned that they were burying momentos in place of him.

Due to an anomaly in the new multiverse, under normal circumstances, Earth-Prime will only allow a single version of one person to exist on it, or "Highlander" rules, in Cisco terms. However, so far it was only shown to apply to individuals from the original multiverse; but only when they get too close to each other, sparking a countdown til they expire unless one dies.

This applies to surviving worlds, as if the Earth of Earth-TUD17 was released from its Brainiac 5's bottle, it would destroy both it and Earth of the Prime universe.
However, Brainy and Winn didn't suffer this when next to their counterparts (with Brainy having four), possibly due to time travel acting as a kind of temporary buffer.
Behind the scenes
Interestingly in the original comic Crisis, five earths survive the event and get merged into New Earth.

It seems that due to Earth-1's importance as where the portal to the nexus is, the histories of the refugees/survivors got mingled together with it during the reboot.
At the same time, this also hints Earth-96 was originally meant to merge with these Earths as well; until Superman was replaced by Lex Luthor as a paragon.

This universe shares the same name as the keystone "real world" in the comics, also designated as Earth-33.

The name could also be a nod to Prime Earth, which is the mainstream reality after Flashpoint.

Real-life similarities (all of which has been mentioned or seen) that have been confirmed to exist in this universe include;

authors and other writers such as

Ta-Nehisi Coates

,[25]

Robin DiAngelo

,[25]

Michael Eric Dyson

,[25] William Shakespeare,[26] and Marv Wolfman[13];
musicians such as Adele,[20] Julie Andrews,[20] Chuck Berry,[20] Andrew Bocelli,[20] David Bowie,[27] Jeff Buckley,[20] Mariah Carey,[20] Johnny Cash,[28] Patsy Cline,[20] Nat King Cole,[20], Sam Cooke,[20] Callie Day,[20] Aretha Franklin,[20] Marvin Gaye,[20] Josh Groban,[20] Donny Hathaway,[20] Whitney Houston,[20] Mick Jagger,[20] Etta James,[20] Gladys Knight,[20] Beyoncé Knowles-Carter,[20] "Little Richard",[20] Bob Marley,[20]

Dean Martin

, Curtis Mayfield,[20] Audra McDonald,[20] Idina Menzel,[20] Freddy Mercury,[20] George Michael,[20] "Morrissey",[20] Stevie Nicks,[20] Dolly Parton,[20] Ben Platt,[20] Elvis Presley, Leontyne Price,[20] "Prince",[20] Bonnie Raitt,[20] Otis Redding,[20] David Ruffin,[20] Lea Salonga,[20] Frank Sinatra,[20] Nina Simone,[20] Mavis Staples,[20] Barbara Streisand,[20] Jazmine Sullivan,[20] Taylor Swift, James Taylor,[20] Luther Vandross,[20] Colm Wilkinson,[20] Avery Wilson,[20] Jackie Wilson,[20] Amy Winehouse,[20] and Stevie Wonder[20];
actors and other celebrities such as Blue Ivy Carter,[10] John Carpenter,[10]

John Cena

,[10] Chris Evans,[30]

Tom Hanks

, John Hughes,[10] Dwayne Johnson,[20] Alexander McQueen,[31] Ryan Reynolds,[3] and Steven Spielberg[10];
politicians and political figures such as Fidel Castro,[9] Shirley Chisholm,[32]

C. Douglas Dillon

,[9] Ike Eisenhower,[9] Ruth Bader Ginsburg,[32] Dolores Huerta,[32] Saddam Hussein,[10] John F. Kennedy,[9]

Robert F. Kennedy

,[9] Martin Luther King Jr.,[33] Abraham Lincoln,[34]

Robert McNamara

, Barack Obama,[3]

Alexandria Ocasio-Cortez

,[35] Franklin Roosevelt,[7] and Joseph Stalin[24];
royalty and other nobility such as Marie Antoinette,[4] Prince Charles,[36] Cleopatra VII,[37] Queen Elizabeth II,[38] King Henry VIII,[37] Duchess

Meghan Markle

,[38] the Romanov family,[3] and Vlad III[24];
other historical figures such as "Black Caesar", "Genghis Khan", Grigori Rasputin, and Benjamin Siegel;
the social media platforms "Facebook", "

Instagram

", and "

LinkedIn

";
mass media such as the magazine "

The Advocate

";
films such as "Beetlejuice", "Black Panther", "

Frost/Nixon

", "Ghostbusters", "Ghostbusters II", "Indiana Jones and the Last Crusade", and "Thor: Ragnarok";
television series such as "

Jeopardy!

"[39] and "Supernatural"[40];
musicals such as "Singin' in the Rain"[26];
books such as "Alice in Wonderland",[41] "Between the World and Me",[25] and "

White Fragility: Why It's So Hard for White People to Talk About Racism

"[25];
comic books such as "Claw the Unconquered",[42] "DC Super-Stars of Space",[42] "

Green Lantern Corps: Edge of Oblivion

",[42] "Jonah Hex Spectacular",[42] "Kamandi",[42] "Looney Tunes",[42] "

Secrets of Haunted House

",[42] and "

Star Hunters

"[42];
video games such as "Injustice 2",[43] "Killer Instinct", the "Mario Kart" series,[28] and the "

Mortal Kombat

" series[44];
References