For his doppelgänger on Earth Thirty-Eight, see George Washington (Earth Thirty-Eight).
"Our cause is the cause of all men. To be treated equally regardless of hereditary privilege. We must prove to the world you don't need a title to be a gentleman. The British may be dishonorable but I am not. By my death I will prove to the crown what it means to be an American."
—George Washington[src]
George Washington (born February 22, 1732) was the leading general in the American Continental Army in the American Revolution. He then went on to become the first President of the United States. Rip Hunter went to 1776 before Washington crossed the Delaware and assassinated him in order to lure the Legends. He was saved by the Legends and was inspired by Mick Rory's spirit of rebellion.
Biography
Original timeline: On Christmas of 1776, Rip Hunter went into the American camp where he went into Washington's tent and then shot and killed him.
Current timeline: His death created an aberration and sent a time quake through the Temporal Zone which alerted the Legends. They went back to the night before where Washington was attending a banquet. Sara Lance found Washington and tried to convince him to go with her because he was in danger just before redcoats stormed the building with automatic rifles. She and Rory tried to take Washington away but he refused to retreat, until the two forced him. They came upon Rip and he shot Sara before the British took Washington and Rory away.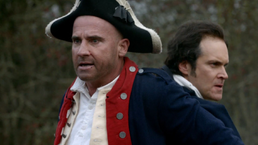 They were taken to Lieutenant General Cornwallis of the British Army where he declared that they would be hung in the morning. Washington wanted Rory to take a letter back to his wife as he would be released after his hanging but Rory refused. He told Washington that they should fight and resist to the fullest though Washington didn't think that was what a gentleman did. Rory told him that being an American meant being a misfit and rebel and to be proud of it. When Washington was to be hung, he distracted the British for Rory to grab a musket and cause a cache of gunpowder to explode. Together the two fought off the redcoats until Nate and Amaya arrived to help save them.
Washington told Rory that he was proud of his rebel spirit and that he was the definition of a proud American. He then revealed that the 'letter to his wife' had been a battle strategy that he wanted to sneak back to the army for a sneak attack which Rory chuckled at. As a result of their meeting, Washington had a statue of Rory made that was placed in D.C.
Appearances
DC's Legends of Tomorrow
Season 2
Behind the scenes
"That miscreant? They were business partners, sure, but Bruno was only in it for the money laundering. It's a shame how he used your brother's business and then dumped him."
—Lillian Luthor on Bruno Mannheim[src]

Bruno Mannheim is a notorious dirty businessman on Earth Thirty-Eight.
Biography
At some point in time on Earth Thirty-Eight, Bruno Mannheim joined Lex Luthor in money-laundering and other illegal schemes related to Luthor Corp. Bruno laundered money through Luthor Corp, then dumped his partner Lex when he was investigated by the state. The center of the scheme were the parking lots, which Bruno purchased through a subsidiary he bought from Lex. According to Lena Luthor, it was the relationship with Mannheim that set Lex down the wrong path in his life. Unlike his partner in crime, Bruno escaped the law unscathed, continuing his operations.[1]
Lena Luthor visited her mother, Lillian Luthor, in prison, asking her for information on Lex's secret deals, including the leads on Bruno Mannheim, pretending as if she wants to go back to her "family business" with James Olsen's likely indictment as the Guardian. In reality, Lena has given that information to the DA's office, revealing more than five shell companies belonging to Bruno, and making a deal with District Attorney Diaz: information on Mannheim's laundering that would allow to put him behind the bars like Al Capone. Diaz agreed to the deal, announcing that the charges against Olsen for obstruction would be dropped, however, Olsen would be arrested if he took to vigilantism once again. She has also announced that the DA's office has "uncovered "new evidence in the State's case against Bruno Mannheim, reissuing the indictment which will include several counts of money laundering.[1]
Powers and abilities
Abilities
Appearances
Supergirl
Season 4
Behind the scenes
References
↑ 1.0 1.1 1.2 "

The American Alien

"
Other versions of George Washington
To see other versions of this character, click the Earth name below for that Earth's counterpart of George Washington.
New multiverse
Earth: Prime
Original multiverse
Earth: 1 • 38