"We're gonna train you, man. Karate Kid style. Behold! I call him Girder."
—Cisco Ramon to Barry Allen on his creation[src]

Girder is a remotely controlled robot created by Cisco Ramon to train Barry Allen in defeating Tony Woodward.
Overview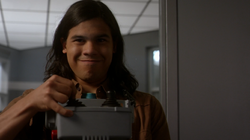 Girder is a simple, mostly mechanical, remotely controlled robot, a moving target which simulates movement and punch power of meta-human Tony Woodward.
Basic body on the robot is made of steel, mainly utilizing rivets but also some welding to hold the construction. Moving parts include two "arms" and a torso mechanism.[1]
History
In 2014, after Barry Allen was beaten by Tony Woodward, who used his meta-human powers, Cisco Ramon had built a robot overnight to train Barry. After a single training session it was obvious that robot, while a crude approximation of Woodward's powers was able to beat Allen just as effectively, demonstrating the flaw in the strategy.[1]
In 2016, Girder robot was seen in S.T.A.R. Labs, located outside one of the rooms, in the corridor.[2]
Specifications
Appearances
The Flash
Season 1

Season 2

Season 3

Season 5
Behind-the-scenes
In DC comics Girder is a nickname of Tony Woodward. While it was also used as such in the show, robot was the first entity nicknamed with this name by Cisco Ramon.
Girder's design has visual similarities to Woodward's appearance in the comics.
References
Community content is available under
CC-BY-SA
unless otherwise noted.