watch 02:03
Wiki Targeted (Entertainment)
Play Sound
The Gotham City Gazette, or simply Gotham Gazette, is a newspaper publisher located in Gotham City.
History
In 2003, Candice Long showed Ryan Wilder an article entitled "Batman Defeats The Joker" to mock Ryan about how she was not newsworthy though she had been abducted.[1]
In January 2020, a writer for the Gotham City Gazette was at Lex Luthor's ceremony when he received the Nobel Peace Prize. According to Nia Nal, the writer from the Gazette was giving her "angry eyes" because Nia was saving a spot for Kara Danvers.[2]
Shortly after, the Gotham Gazette reported on the death of Hamilton Dynamics CEO Catherine Hamilton-Kane and the upcoming trial of her husband, former Crows Commander Jacob Kane, as more pieces of evidence against him were being brought to light.[3]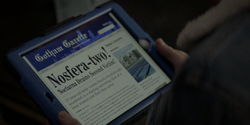 The Gotham Gazette reported on the crimes of Nocturna.[4]
The Gotham City Gazette has a front-page article called "The Detonator Strikes" the day after a bomb explodes. George Adler, Jr. has a copy of the paper in his apartment; Kate uses it as a distraction when she pushes the man.
"Bat by Popular Demand" is the headline when Batwoman stops Miguel Robles after returning from a hiatus; Kate laughs as she reads it.[5]
Kate read an article entitled "Murdered Gotham University Prof Found in Dumpster" about the death of John Carr that said his body was covered with burn marks.[6]
Luke Fox read an article entitled "Titan" Teslow Commits Grisly Murder on Subway" which described the decapitation of a medic in charge of hiding the condition of Tim Teslow.[7]
The newspaper has a front page article entitled "Whatever Happened to Kate Kane?" after Kate disappears following the explosion of her private jet over Gotham; Ryan Wilder reads the article and learns Kate's biography. Also, Alice finds a paper plane of the article with the words "Consider Us Even" written on it; she decides to wage war on Safiyah Sohail.[8]
The next morning after Batwoman defeated Victor Zsasz, the newspaper printed a front page article entitled "Bat Girl Magic!" with a picture showcasing that there was an African-American woman wearing the Batwoman suit. Susan Stevens reads and shows the article to Ryan. Later, Luke also shows the article to Ryan, but wonders how the newspaper got a picture of Batwoman when only Ryan, Victor, and Mary Hamilton were present at the battle, causing Ryan to reveal that Mary provided the picture.[9]
Horten Spence was not allowed to write articles about the arsons of different community centers in Gotham and ultimately was fired; however, after Batwoman stopped the schemes of Ellis O'Brien, Horten was rehired.[10]
Known employees
Current employees
Appearances
DC's Legends of Tomorrow
Season 5
Batwoman
Behind the scenes
Gotham City Gazette has an account with Instagram that displays weekly highlights of Arrowverse shows.
References
Other versions of Gotham City Gazette (Earth-Prime)
To see other versions of this newspaper publisher, click the Earth name below for that Earth's counterpart of Gotham City Gazette.
New multiverse
Earth: Prime
Original multiverse
Earth: 1 • 89 • 99
Community content is available under
CC-BY-SA
unless otherwise noted.