Green Martians are an alien species from the planet Mars.
History
The Green Martians live peacefully on the planet Mars. They have battled in a war before. However, one day, they were outmatched by the White Martians, as they were apparently all wiped out, leaving J'onn J'onzz as the last of his kind; however, it was later revealed by M'gann M'orzz, that the Green Martians were not all wiped out, they were turned into White Martians. It is revealed later on that M'yrnn J'onzz was kept alive by the White Martians due to his position as high religious leader of the Green Martians.
Overview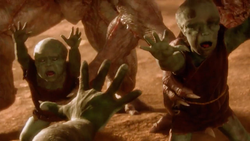 Green Martians lived on Mars until they were apparently exterminated by the White Martians, leaving J'onn J'onzz and his father M'yrnn J'onzz the only known surviving members of their species.[1][2]
Green Martians are very peaceful, gentle, kind, caring and selfless, however, they can be cold, cruel, aggressive, violent and ruthless if they are threatened, if the situation calls for it; despite this, green martians are polite, respectful, calm, level-headed and patient, they also have a sense of justice, honor and good morals.
Physical appearance
Green Martians are roughly humanoid, but with a differently shaped head, green skin and red eyes.
Powers and abilities
Powers
Most Green Martians have abilities that are not possessed by normal humans. These include;
Abilities
Multilingual: Green Martians are capable of learning to speak other languages very quickly.
Weaknesses
Fire: If they are shape-shifting, any part of their body that comes close enough to touch fire partially transform back into its true form, which could be used to expose them. When Green Martians are exposed to fire, their skin turns green.
White Martian blood: If the White Martians' blood is injected into the Green Martians' blood system; it will turn the latter into White Martians.
Za-alet: Translated as "decay of memory", this is a brain disease similar to dementia. It appears that eldery Green Martians have a small chance to develop this disease (it was implied that this is very rare).
Psychic dampers: Those devices can prevent Green Martians from using their mental powers.
Known Green Martians
Living Green Martians
Several unnamed Green Martians (most were turned into White Martians)
Deceased Green Martians
Many unnamed Green Martians
Appearances
Supergirl
Season 1

Season 2

Season 3

Season 4
The Flash
Season 3
Comics
Adventures of Supergirl
Trivia
The holocaust of the Green Martian is a lot like the holocaust of the Jewish during World War II.
Behind the scenes
In some versions of the DC comics, J'onn J'onzz, is not the last of the Green Martians; as there are thousands of Green Martians left alive.
References
Community content is available under
CC-BY-SA
unless otherwise noted.