"Look at your hero, this man is no god, he is nothing. The days of The Flash protecting this city are over. Now what will you do without your precious hero?"
—Zoom declaring himself victorious to Central City[src]
"Zoom" is a powerful "speed demon", an inter-dimensional entity from Earth Two and the archenemy of Jay Garrick/The Flash. After the singularity caused by the Reverse-Flash's "demise" on Earth One opened in Earth Two, Zoom traveled to Earth One, learning of the existence of Barry Allen/The Flash. He came to despise him and extorted meta-humans from Earth Two to try and kill Barry. His ultimate agenda, however, is to increase Barry's speed to its zenith so that once he siphons all of his Speed Force power, he will truly become the fastest being in the entire multiverse.
Biography
Early life
Little is known of Zoom's history; it is supposed that the explosion of Earth Two Harrison Wells' particle-accelerator gave him his powers. No one knows what he looks like or his true identity before becoming Zoom. 
Supervillain career
Zoom first appeared on Earth Two around the same time The Flash acquired his Speed Force powers, rampaging through Central City killing hundreds of people.
As one of his first acts of violence, Zoom tricked 15 members of the Central City Police Department on Earth Two into a trap to demonstrate his power and how he couldn't be stopped. Zoom viciously murdered all but one officer so that he could live and tell the tale. After that officer relayed the story, Zoom returned to his home that night and killed him as well. The story given by the last surviving officer resulted in Zoom gaining his moniker.[1]
Flash spent the next two years of his career tracking Zoom with little success and Zoom in turn became obsessed with destroying Flash, desiring to be the only speedster in existence. Flash and Zoom had numerous encounters, but Flash came to be scared of Zoom and sometimes deliberately avoided fighting him out of fear. Zoom became the most feared villain in Central City.
Jay's final confrontation with Zoom ended atop a skyscraper after a chase through the city; Zoom began phasing his hand through the Flash, draining Flash of his speed. Before Zoom could finish him off, a huge vortex opened in the sky and Flash was sucked into it. Zoom, unaware the vortex was a portal to Earth One, believed Flash had been eliminated and raced away.[2]
Some time later, Zoom attacked the science building of Central City College and kidnapped Harrison "Harry" Wells' daughter, Jesse Wells, and is currently holding her hostage.
Targeting the Flash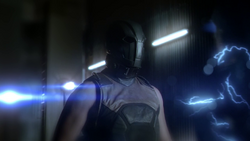 Zoom's investigations of the so-called 'breaches' resulted in his discovery of Earth One and subsequently how to travel through the inter-dimensional breaches using his super-speed where he became aware of the existence of yet another speedster: Barry Allen. He was angered by the existence of Barry Allen/The Flash, wishing to be the only speedster, and vowed to kill him - but only after pushing him to reach his full potential and steal his Speed Force, as he had with Jay. To expidite Barry's accumlation of Speed, Zoom began sending meta-human villains from Earth Two to Earth One to fight Barry, ensuring their co-operation by refusing to bring them back to Earth Two until they succeeded in killing him, though in reality Zoom had no intention of allowing Barry to die except by his (Zoom's) hand. The first metahuman candidate was Al Rothstein/Atom-Smasher, who he dragged to Earth One via one of the 52 breaches across Central City on Earth One, and promised him safe passage home in exchange for killing Flash which he agreed. [3]
In the wake of Atom-Smasher's defeat, Zoom briefly returned to Earth Two to retrieve the meta-human Eddie Slick/Sand-Demon, and forcibly brought with him to Earth One. Zoom then extorted the terrified metahuman with the same offer he made to Atom-Smasher of return to Earth Two and Slick consented. Slick however was defeated and killed through the combined actions of both Flashes.[2]
After Slick's defeat Zoom sent in "King Shark" from his world to kill Flash. The monstrous metahuman briefly caught him before being stunned and contained by the Earth-2 Harrison Wells, who'd followed Zoom to Earth-1.[4]Upon learning of Harry's presence on Earth-1 Zoom returned to Earth-2 and confronted Jesse to find out why Harry had traveled to Earth-1, but Jesse professed not to know and Zoom complimented her loyalty before torturing her. 
Zoom decided to adjust his tactics slightly and managed to gather details about Barry's personal life, including his real name and previous romantic attachment to Central City sports-reporter Linda Park. Zoom then sought out her Earth-2 counterpart Linda Park/Dr. Light and extorted her as he had the previous Earth-2 villains, despite her being a small-time thief who had never taken a life. Zoom believed Flash would be unable or unwilling to hurt her due to his previous attachment to her Earth-1 counterpart, and he was soon proven right but it was rendered mute upon Light's defeat and incarceration in the Pipeline. Zoom later returned to Earth-2 to tell Jesse that her father had abandoned her, scoffing at her conviction that her father would find and kill him and reminded her the fates of her and her father were still to be decided.[5]
Zoom's metahuman plans took an unexpected turn when he was contacted by the Earth-1 Linda Park posing as Dr. Light who claimed to have killed Flash and threw his emblem through one of the breaches as proof. Zoom however saw through the deception easily and did not take the bait, choosing instead to bide his time. Once Team Flash had let their guards down, Zoom really did come through to Earth-1, kidnapped Linda Park and took her to the roof of the S.T.A.R. Labs where he was confronted by Flash. Sadistically mocking Flash's failed attempt to deceive him, Zoom dropped Linda off the edge of the roof but Flash raced to the bottom followed close behind by Zoom and caught her with a wind-funnel before turning to face Zoom head-on. Flash then turned and raced around the Star Labs building, building up his speed-lightning before firing a bolt at Zoom who, to Flash's horror, jumped into the air, grabbed the lightning bolt in a somersault and hurled it right back at Flash with even greater force, scoring a direct hit. Desperate to regain control of the fight, Barry attempted to outmaneuver Zoom by forcing him into a freefall from a high altitude where Zoom's superior speed was neutralized but Zoom simply reversed the move and instead landed on top of Barry. Zoom then proceded to brutally and savagely pulverize Flash at high speed before finishing with a devastating blow to Flash's spine, dislocating a portion of his spinal-column and temporarily paralyzing him. As Zoom stood triumphant over Flash's body, Harry attempted to shoot Zoom with a dart filled with the speed-dampening serum only for Zoom to catch it and jammed both darts into Flash's chest. This combined with the severe trauma and paralysis caused Barry to lose conciousness. Zoom then turned his head to Wells and told Harry he was next before speeding off with Flash's body.
Zoom dragged the limp, battered and bleeding body of The Flash across Central City to the newspaper office and police station to showcase his victory and declaring that the days of the Flash protecting Central City were over. He then returned to S.T.A.R. Labs with Barry to confront Harry and the team. Derisively mocking Harry for believing Barry stood a chance of defeating him, Zoom stabbed Barry with one of his claws before bidding him farewell. Drunk with victory and in the midst of gloating, Zoom was distracted long enough for Cisco to shoot him in the neck with a speed-dampening dart. Bellowing in agony, Zoom temporarily collapsed on the floor before recovering in mere seconds and raced away.[6]
Unbeknownst to Team Flash, Zoom returned in December shortly before Christmas, having recovered from the effects of the Speed-Dampening Serum, and offered Harry a mysterious deal in exchange for Harry's assisstance, to which Harry did not respond. Zoom sadistically pursued Wells throughout the Star Labs facility for amusement before cornering and disarming him. Holding Harry by the throat, Zoom's only words were "Merry Christmas" before racing away. Shortly thereafter, Zoom confronted Wells for a second time to demand an answer but Wells begged for more time, which Zoom reluctantly granted. In the wake of Flash's victory over Weather Wizard and the Trickster, Zoom returned once more to Earth-1 and was met by Wells, who demanded to see his daughter alive and well before anything else. Zoom consented and brought Jesse over, allowing Wells to see and talk to her briefly before superspeeding her away again. Harry declared that he had figured out Zoom's masterplan; to fatten up Barry with speed so that Zoom could take it all from him. Zoom confirmed it and asked for Wells' answer. Left with no other options, Harry reluctantly agreed to help Zoom steal Barry's speed in exchange for his daughter.[7]
Zoom had an encounter with Flash that caused him to miss the funeral of a person significant to Oliver Queen.[8]
Personality
Zoom is obsessed with speed to the point of being unstable, as noted by his creator, he has set a mission of eradicating anything else with super speed and at the same time, continually increase his own speed by stealing others', namely Barry Allen at the moment. According to Earth Two Harrison Wells, those under the enthrallment of Zoom are bound to do things out of character, such as turning a thief into a killer. Zoom instills a tremendous amount of terror in almost everyone he encounters, including Jay Garrick himself who describes Zoom as being a "demon with a face of death". Jay even admits he didn't confront Zoom sometimes when he should have out of fear.
Zoom has been shown to be extremely egotistical, as after his victory against The Flash in the episode, "Enter Zoom," he proceeded to parade Flash's body to Central City News, where he displayed it to the media like a hunting trophy, proclaiming himself to be "The fastest man alive." He then hauled the unconscious Flash to the Central City Police Department, gloating to the assembled officers, and reveling in their helplessness as he caught dozens of bullets with his speed. Finally, he carried Barry's body back to STAR Labs, showcasing him to Caitlin, Cisco and Harry (Harrison Wells Earth Two) and also mocking Harry for believing that The Flash was going to defeat him. Zoom's arrogance has however proven to be his one point of vulnerability when, in the midst of gloating about his victory to the team, he let his guard down long enough that he was shot by a speed-dampening dart.
Zoom is also horribly sadistic, enjoying the fear and terror in his helpless prey with obvious and somewhat animalistic satisfaction. Zoom toyed with Harry by not catching him instantly and instead chased him like prey in S.T.A.R. Labs. He has also clearly been shown to be exceptionally psychotic, as he shows absolutely no remorse or regret in his use of other people, metahumans or otherwise, treating them as disposable pawns to further his goals. His manic personality is a reflection of his obsession with speed, and possibly an effect of his tremendous powers on his cognitive faculties. As Harry told Cisco on how Zoom received his nickname, in which Zoom faked a hostage situation on Earth-2 just to slaughter all the police officers except one, so he could tell the tale of how Zoom was unstoppable and the police were powerless. He is revealed to be merciless as he then went and killed the surviving cop, who believed he was lucky to have been spared, after his message was delivered, further showing his cruel, sadistic, and utterly ruthless and merciless nature.
Despite his psychotic nature, astronomical speed and obsessiveness, Zoom is not without patience and forethought; his plans are intricate and carefully mapped out in the long term as evidenced by his plan to wait and 'fatten up' Barry with speed before stealing it all from him in the same manner someone would fatten up a pig or cow before slaughtering it. Zoom also makes sure to set up secure contingency plans to ensure his primary plan succeeds; kidnapping Jesse Wells and forcing Harrison Wells to help him steal Barry Allen's speed in exchange for Jesse's life.
Some even question if Zoom is actually human but Harrison Wells insists that he is indeed human but wonders if he is actually still human. 
Powers and abilities
Powers
Superhuman speed: Zoom can move unimaginably fast and might be the fastest speedster in all of existence according to Jay Garrick, who claims to be capable of moving at near-light speed. According to Harry, Zoom is at least three or four times as fast as Barry currently is, and even moving at above Mach 2 isn't fast enough to stop him. While running, the speed-force noise that he emits has a very pronounced thunderous yet strangely sharp and high-pitched quality. Unlike previously seen speedsters like Barry Allen, Jay Garrick or Eobard Thawne, the Speed-Force lightning that radiates off Zoom is sapphire blue as opposed to yellow (Barry and Jay) or red (Eobard). Zoom is so fast that even S.T.A.R. Labs' computers can't track his movements.
Abilities
Master tactician/Manipulator: According to Jay Garrick, Zoom is extremely intelligent. He outsmarted Jay, who possesses an equally sharp mind, multiple times for over 2 years and the latter claims that he always seems to be one step ahead. Zoom is also able to manipulate powerful meta-humans, either through simple bargaining or fear-extortion, such as Atom Smasher or Sand Demon to do his bidding, under the promise of returning them to their world afterwards, even adjusting the strategy based on knowledge on Barry's personal life he somehow attained. Zoom managed to evade the trap that the Flash and Harrison Wells from Earth Two had set to capture Zoom. Zoom was able to easily out maneuver and out-fight Barry in every way, leaving Barry near death, a testament to his strategic fighting and planning.
Intimidation: Due to his incredible power and demon-like appearance, Zoom commands an extremely intimidating presence, able to instill terror in the most powerful of metahumans, even in Atom-Smasher who himself was a big man and Jay Garrick. Nearly all of the metahumans from Earth Two fearfully speak of Zoom as a monster or demon, and consider him unbeatable, like when Atom Smasher considered Central City from Earth One and Barry Allen "unworthy" of him.
Skilled hand-to-hand combatant: Complementing his ferocious appearance and personality, Zoom's unpredictable yet efficient style uses his tremendous speed and powers. His style is more precise than Barry Allen's yet not quite as tactical as Eobard Thawne's. Instead, Zoom uses powerful punches to accompanied by his claws for savage slashing movements, overall causing great blunt-force trauma. He also uses his great reflexes to redirect attacks from his opponent. His punches themselves probably break the sound barrier as indicated by the sonic boom like sounds produced when he was punching Barry. Although this may have just been the resulting sound of his fist hitting Barry at such high speed.
Acrobatics: Zoom showed the capability to flip in midair when throwing the Flash's lighting back at him, as well as fight confidently while free falling.
Weaknesses
Speed dampening serum: When Zoom was about to kill Barry, Cisco was able to shoot him with a dart containing a speed dampening serum, which was shown to work temporarily. However, his healing capacities slowed the serum down to allow Zoom to run away before the serum took full effect in order to avoid being captured.
Equipment
Zoom suit: He wears a protective suit as his supervillain alter-ego, Zoom, to hide his true identity from his victims. It is unknown what materials it's made out of. Zoom's suit is unique in that unlike Barry who wears a mask that just covers half his face, Zoom has his whole face covered with only slits for a mouth that give him a somewhat demonic appearance, and gloves that end in pointed claws that he uses in combat. The suit itself is pitch black and boasts an inverted lightning-bolt shaped crest and lightning-bolt shaped earpieces.
Appearances
The Flash
Season 2
Arrow
Season 4
Trivia
In the DC comics, the alias of Zoom is used by Hunter Zolomon, who is also known as the third Reverse-Flash and the archenemy of the third Flash, Wally West. His powers are also portrayed as time manipulation, allowing him to alter flow of time around his being, slowing everything else around him to appear faster.
Zoom's blue lightning and speed-draining abilities suggest an influence from two characters, a futuristic version of Barry Allen from the storyline, Out of Time, and the villain Malcolm Thawne a.k.a. Cobalt Blue, Barry's long-lost twin brother who acquired a gem that could absorb Barry's speed.
Zoom's physical appearance as well as his suit in the show resembles that of the Black Flash in the comics, who acts as a grim reaper to speedsters.
He also has qualities of Daniel West, another incarnation of the Reverse Flash, who stole speed from other speedsters, and also possesses claws.
Zoom's eyes have gone through some changes. In a previous version seen in the trailers and in the pilot when Cisco saw him talking to Atom Smasher, Zoom's eyes glowed blue. However, the current version has his eyes pure black. This is most likely to give him a more "demonic" appearance and also having the blue eyes would have been somewhat repetitive, since Reverse Flash had this quality last season.
Gallery
Concept art
References