Dr. Jonathan Crane, also known as the Scarecrow, is a notorious Gotham City criminal, specializing in techniques and chemicals that manipulate fear, such as his powerful Fear toxin. Crane was originally a well-respected doctor and a colleague of the late August Cartwright.[1] He is currently incarcerated at Arkham Asylum.[2]
Biography
Original multiverse
Gotham City's foe
Jonathan Crane was a colleague of August Cartwright. At some point, he created the Fear toxin and became a criminal known as Scarecrow.[1]
On one occasion, he attempted to hack the internal computers on the Gotham City's trains. This incident caused Gotham trains to be modified to run on an "independent analog system".[3]
Arkham Asylum inmate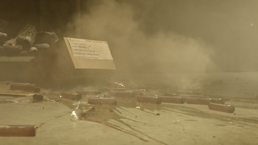 He was eventually captured and sent to Arkham Asylum and was designated as patient #856220. Crane's belongings, including vials of Fear Toxin, were put in a box in the evidence room. When The Flash tried to hit Nora Fries with a lightning bolt, he accidentally hit Crane's belongings, which released the Fear Toxin inside the room and made him and the Green Arrow see their worst fears.[2]
Anti-Monitor Crisis
During the Anti-Monitor Crisis, Crane as well as everyone in the multiverse except for the seven Paragons, was killed in an antimatter wave by the Anti-Monitor on December 10, 2019,[4] only to be restored a month later, after the Paragons and the Spectre created a new universe.[5]
Abilities
Genius-level intellect/Expert tactician/Leader: Crane is an extremely intelligent individual, due to his background as a physician[1] and his fame as one of the greatest criminal mastermind of Gotham able to create straightforward and ruthless plans to terrorize the city.[3][1]

Expert chemist: Crane is very proficient in chemistry and biochemistry as evidenced by him being able to develop the Fear toxin on his own.[1][2]
Computer specialist/Expert computer hacker: Crane has been able to hack the internal computers on the Gotham City's trains.[3]
Equipment
Former equipment
Fear toxin: Jonathan Crane's trademark is a powerful hallucinogen that makes victims see their worst fears and can bring anyone to their knees.
Appearances
Arrow
Season 7
Batwoman
Season 1
Trivia
Behind the scenes
In the main DC comics continuity, Jonathan Crane is a criminal in Gotham City who takes pride in spreading fear using his specially-designed fear toxin, and is an adversary of Batman named "Scarecrow".
References
Other versions of Jonathan Crane
To see other versions of this character, click the Earth name below for that Earth's counterpart of J. Crane.
New multiverse
Earth: Prime
Original multiverse
Earth: 1 • 38
Community content is available under
CC-BY-SA
unless otherwise noted.