Dr. Kelly Olsen (born 1983[1][2]) is a psychologist specializing in trauma and a former soldier of the U.S. Army. Kelly is also the sister of James Olsen, the fiancée of a late unnamed woman, and the girlfriend of Alex Danvers.
Biography
Original multiverse
Early life
Kelly Olsen was born in 1983 to soldier Marcus Olsen and his unnamed wife. She has an older brother, James. At the age of four, Kelly nearly died of suffocation after eating a handful of blueberries, consequently discovering she was severely allergic to them.[3]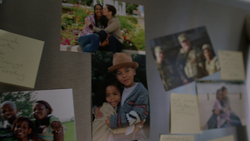 Growing up, Kelly and James were very close, though the former was constantly worried about her brother due to his impulsive, danger-prone antics. Kelly ended up taking care of James during the 15 times he ended up in the hospital.[4]
When Kelly was eight years old, her father was killed during Operation Desert Storm in 1991.[2] Before the funeral service started, her brother told her that he would have been with her to support her. However, Kelly could not find James and called his name while looking for him. Unbeknownst to her, two boys had locked James in a coffin, so Kelly was alone at the service. This bothered Kelly for many years, as she believed her brother had abandoned her at the service after promising he'd be there to help her through it.[1]
After their father's death, both Kelly, James, and their mother moved to the home of their aunt Vi in Calvintown, where they spent their youth and early adolescence.[5]
At some point, Kelly and her family moved to Metropolis.[6]
A love story with her Sergeant
In adulthood, Kelly followed in her father's footsteps and spent years serving with the United States Army.[4]
At some point, Kelly was stationed on a checkpoint in the outskirt of Bashur with a commanding officer whom she considered "a jerk". One night, a man tried to cross the checkpoint with his pregnant wife in order reach the only midwife of the region, but the officer stopped him as he didn't have the right papers. Kelly furiously protested they needed to let the couple cross since it was the right thing to do, but the man did absolutely nothing. Kelly's Sergeant then intervened and convinced the officer it would be safer for his unit not to risk the man's wife and child. In this moment, Kelly realized that while she couldn't change people, she could still appeal to what they cared about.[7]
Afterwards, Kelly fell in love with her Sergeant and the two began a relationship, which they were forced to keep hidden from their fellow soldiers. Unfortunately, the woman died one day during a patrol, leaving Kelly heartbroken and unable to face her grief for months. After returning home from duty, Kelly received a posthumous letter from her lover encouraging her to move on since she would surely someone else who could her smile. With this, Kelly finally began to let go of the tragedy.[8]
Sometime after 2015, Kelly met James' friend, Kara Danvers, though she remained unaware of the latter's identity as Supergirl. Kara often told Kelly about her adoptive sister, Alex Danvers.[4] In 2017, Kelly served in Afghanistan, where she met and became good friends with Pete Andrews, a fellow soldier assigned to her same unit.[9]
Later, upon completing her service, Kelly became a psychologist specializing in trauma,[4][10] though growing up many suggested her to be a shrink instead.[8]
Visiting National City
After her brother was shot, Kelly took a red-eye flight to National City to act as "next of kin" while he was hospitalized and comatose. Arriving at the hospital in a critical time, she asked Dr. Kaplan to see James right away, but not before introducing herself to Alex, whom she recognized as Kara's sister by Alex false association to the FBI, and requesting access for all of James's friends as well, stating they were family too.
Later, Alex entered James' hospital room asking how he was doing, Kelly answered that he was still unconscious but it was good since it means he was healing. Then, Alex thanked Kelly for giving them access to the room, to which she answered it was a pleasure since she knew her brother is the "chosen family" kind of guy. As they were speaking James began having convulsion and, after Dr. Kaplan managed to stop them, he informed Kelly that their only option is to have him underwent an operation who could leave him paralyzed. Alex took Kelly aside telling her that there was another option: the
Harun-El
drug
Lena
was working on and that could heal James entirely. After hearing that the drug could have counter-effect, Kelly told Alex that she doesn't trust Lena since the only thing she knew about her is that her family had done some terrible things, many of which to his brother.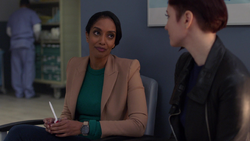 The two women had an argument and Alex told that all she wanted was what best for James, to which Kelly angrily responded that that's what she wanted too. Later, Alex brought some jelly as an "offer of peace" to Kelly, the woman gladly accepted, telling her there was no need to apologize and that jelly is the metaphor of trauma, since if you shake it they wobble despite still holding their form but if you dig in too deep it's never the same. Hearing her, Alex correctly guessed that Kelly was a psychologist and had previously worked with the military, while the latter told her about how many times she had visited James in hospital. They're interrupted by the arrival of Kara, who cheerfully hugged Kelly, and
J'onn
who asked her where was James' room.
After the power outage caused by Manchester Black, Alex once again told Kelly to use the drug stating that she was not asking her to trust Lena but rather to trust her, Kelly was convinced and, since Eve Teschmacher eavesdropped their conversation and had a sample of it with her, they let Lena use it, eventually saving him. When James regained consciousness, she greeted him cheerfully, before to pass him their mother on the phone so that he could reassure her himself.[4]
The next day, after James got a clean bill of health by the doctors and was about to exit the hospital, Kelly approached him and noticed he was still shaken (also due to the powers of enhanced hearing he gained from the drug) so she insisted that he should take some more rest, however the man dismissed her offer stating that he was fine and must cover the story of the official repeal of the Alien Amnesty Act.
Kelly then reached James' office at
CatCo
in order to bring him the reference for National City's top PTSD specialists. James insisted that he was fine, however, Kelly pointed out that he was keeping off all the monitors in his office, guessing it was out of fear for seeing
Lex Luthor
at the news, since he tried to kill him eight times.
She also noted that her brother was irritable, jumpy and sweaty, all psychological responses to triggers. James got angered and yelled at Kelly, then he apologized telling him he was busy and overwhelmed and that she should return home.
Later that evening, after the fake Supergirl's attack to the White House, James came back to Kelly's hotel room and asked her to stay in National City a little longer, admitting he needed her help to heal from his trauma.[10]
Getting close to Alex
The next day, Kelly accompanied her brother to the clinic of her colleague Dr. Park, National City's best trauma therapist, in order to have the first session to treat his PTSD. Kelly stated that she knew how hard could be facing what he was about to do, that she was proud of him and their father would have been too. James thanked her and entered the clinic as Kelly received a phone call from Alex.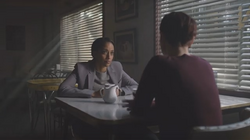 Later she and Alex met in a coffee and the latter asked her to give her advice regarding what to do to reach her commanding officer since they both agreed on the suspicious behavior of the Department of Alien Affairs, but the Colonel insisted on following the rules despite all of it. Kelly told the woman about her experience in Bashur and suggested her to find what her commanding officer cared about, Alex stated that she was very happy that Kelly decided to stay in National City, causing Kelly to joyfully smile. That night, Kelly received a message from James and met with him at CatCo. He revealed that hours earlier he had an attack that he initially thought was related to PTSD until he started to somehow managed to see and heard a lot more clearly than possible, then he showed her the metal lamp he bent bare-handed suggesting they need to contact Lena since she could have known what was happening to him.[7]
After Lena tried unsuccessfully to extract the Harun-El from James with the assistance of Alex, Kelly and Brainy, the latter suggested that they could use a mental palace as a drastic measure to relieve James' PTSD, however as they did this he revived their father funeral, prompting Brainy to state that that was the real reason of his PTSD. Both James and Kelly stated that it was impossible due to James not being at the ceremony because he had locked himself in a diner's bathroom, however, Brainy suggested that he could have altered his own memory since the mind does everything in order to protect itself for traumas.
This caused Kelly to walk away telling that she needed a break, only to be followed and confronted by Alex, to whom she opened up revealing what happened the day of her father's funeral and why said memory was particularly painful for her. Alex told her that they were similar, as both are great at taking care of others, but not at taking care of themselves; then she offered her to rest, as she could stay at James' side at her place, however, Kelly stated that she could actually do it, and sincerely thanked her.
Later, after James entered again his mental palace, finding himself stuck into his traumatic memory, Brainy asked Kelly to enter her brother's mind in order to help him but, although Alex told her it would be too much for her, Kelly eventually choose to do it and entered James' subconscious finally discovering what really happened to him the day of their father's funeral, managing to help him overcome the memory and unlocking his new ability to fly. After Kara's interview with Dreamer and Ben Lockwood's subsequent attack at CatCo with the Children of Liberty, Kelly was informed of it when a D.E.O. agent called Alex, and she stayed at Lena's lab while James and Brainy went there in assistance.[1]
The next day, while Kelly and Alex were jogging together in a park, Alex received a phone call from the adoption agency informing her that a 17-years-old girl in labor had chosen her to be the adoptive mother of the child she was having.
Kelly offered Alex her support, due to the anxiety she was experiencing for having to take the most important choice of her life in less than 12 hours, convincing her that nevertheless of the circumstances, she was about to receive a gift; then she accompanied her to Portsmouth, where they took a hotel room and Kelly reassured Alex over her doubts and worries as well as the fear of not being a good mother like Eliza was to her. Kelly comforted Alex telling her that she cared too much for others for not be a good mother; however, moments later, the agency called Alex to inform her that the girl's family had made her changed her mind deciding to keep the baby. After they went back to Alex's apartment, Kelly consoled Alex by telling her about what had happened to her fiancée, stating that it has taught her that no matter how deep they are, eventually scars would always fade.[8]
Afterwards, Kelly stopped at Alex's apartment for the night and they enjoyed a movie together, then Alex fell asleep briefly and had a flashback about an episode of her adolescence with Kara at Midvale. After she woke up and told it to Kelly, she reassured Alex by telling her that the failed adoption could have triggered some memories related to her sister because Kara had also been adopted. Later, Lena called Alex to inform her of what she had discovered in Kaznia and the girl went to the D.E.O. National City headquarters.[11]
Romance with Alex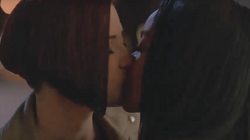 After Lex's plans were thwarted, the Children of Liberty defeated and the martial law withdrawned, Kelly and Alex walked together in the streets to join the "game night" with their friends at the office of J'onn J'onzz's detective agency. Kelly said to Alex that in the brief time they spent together they've been through a lot of things and that she doesn't want to end the closeness with her as it felt like both the most natural thing and a revolution; before she managed to finish the sentence, Alex kissed her, making her understand that she liked her too and wanted to be her girlfriend. At that moment, Brainy and Nia passed by and greeted them, before Alex and Kelly kissed again. The two later joined "game night", where Kelly realized that the reason Brainy was now really good at the game was that he was counting cards.[12]
Months later, Kelly moved to National City and started to work for Obsidian North, a virtual reality based company, using their resources to heal people affected by paranoia, PTSD, or dementia. On the morning of her first day, she had breakfast with Alex, J'onn, and Kara at Noonan's debating with the latter over how technology alienate people but also does good, then she met the company's CEO Andrea Rojas who gave her a brief tour of its medical wing. The next day her brother went to visit her asking for advices regarding how to deal with Rojas takeover of CatCo, to wich Kelly pointed out that he demonstrated years prior that he can be an hero simply with a camera and it's time to ask himself "what James Olsen really wants".
Later that night, Kelly and Alex took part at the party held in Kara's honor for having won a Pulitzer, and they shared a dance. Then, after the Superfriends defeated Midnight she hung out with Nia, Brainy, and Alex at Al's Dive Bar.[13]
The next morning, Kelly had breakfast with Alex complimenting her cooking skills, then the latter tried to feed her with a slice of blueberry pie but she quickly stopped her revealing her allergy.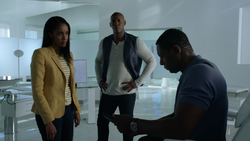 Later that day, Kelly used her VR program at Obsidian North to try to cure J'onn from the pain of Fa'ra'too'rik (the punishment for brother attacking brother) he gained for having attacked Malefic, however said procedure only worsen it so, after finding some fractures in J'onn mind's scan Kelly used the VR lenses to enter his psyche and help him heal. After the Martian discovered that his memory was whiped by someone, Kelly offered to help him rebuild it, thus making him remember his brother betrayed the Green Martians during the Civil War against the White. That evening, Alex was attacked by Malefic in their apartement but managed to use her signal watch to alert Kara, James and Kelly, who rescued her girlfriend from their burning cond while the evil Martian fought Supergirl. Then in an attempt to escape Malefic assumed Kelly's appearance hoping to confuse Alex, however she managed to see through his deception and shot him; the Martian then throw Kelly from the roof of the building they were on, however she was saved by Supergirl.
Later, as J'onn suggested to use her VR machine to dig deeper into his mind to investigate about his brother, Kelly explained that the excessive use of the machine could reset his mind (being secretly heard by Malefic). That night, Alex and Kelly took some cookies to relax after the experience and she gave Alex the list of her allergies, prompting the latter to admit that she was actually scared because they still don't know each other that well despite how much they feel connected. Kelly reassured her that she's safe with her and they share a kiss.[3]
Getting targeted by Malefic
Few days later, while walking on the street with her girlfriend, Kara and James, Kelly met a woman named Jenny at a kiosk and after a few moments, the latter started to tell her her whole story and the problem she had with her sister, to which Kelly suggested her to establish boundaries, prompting the rest of the group to ask her to be more careful with strangers since she was attacked by a shape-shifter. However Kelly insisted for Alex and the others not to worry that much and went to work, where she was soon visited by Malefic himself under the guise of her former comrade "Pete Andrews" who, pretending that he was suffering PTSD after being surrounded by snipers during a mission in Kandahar, asked her help to fix his mind with the Obsidian's tech.
Kelly reluctantly accepted and, that night secretly took him into her studio connecting to his mind with the VR contact lenses. During the procedure, Kelly managed to recognize him and Malefic (having regained the powers he was depleted of in the Phantom Zone) attacked her using his mind control to force her committing suicide, however, J'onn intervened and saved her by exploiting Fa'ra'too'rik to weaken his brother.
Kelly quickly realized that due to an interference with Obsidian's lensens while mind-controlled, she has gained the power to sense Malefic even when he was shape-shifted, however the Martian managed to escape once more, leading Alex, Kara, and James to choose to sent Kelly to a secure location as she was now a target for him due to said power. She leaves National City for an unknown location that same night.[9]
Due to her link with Malefic, Kelly started having visions about who the Martian controlled, and what he was doing. In less than a day, James and Kelly arrived in Calvintown where they spent time growing up.
Once they arrived they were surprised to see the town in such disarray, with the large increased homeless population, accompanied by a new prison. Once they got to their aunt's house, two kids runned away and appeared to having been doing homework while squatting. James and Kelly ran again into one of them, Simon Kirby, at local convenience store when he was caught shoplifting. Kelly coppered for him, and James invited him to dinner. While making pizza, Kelly got a headache due to her continuing visions and stepped outside, meanwhile James and Simon talked about how his mom was in jail for petty theft. After investigating what happened to the town and getting on the phone with a lawyer from National City, James promised to get Simon's mom out of prison and agreed to cover the cost, but Simon was upset when he find out James wasn't staying in town.
Later, Kelly had another vision, prompting her and James to return to National City in order to help Supergirl in her fight with Malefic, who have taken control of Alex and the whole audience of a planetarium. After arriving, Kelly and James put a force field between them and the hypnotized audience, while Supergirl and J'onn saved Alex from a bomb attached to her, containing its explosion. Realizing his defeat Malefic tried to make an escape, but is stopped by Brainiac's updated Phantom Zone projector and (apparently) sent back into the Phantom Zone.
That night, Kelly, Alex, Kara, James, Nia and Brainy went to Al's Dive Bar in order to celebrate their victory when James announced to his friends that, having discovered that a rational crime rate in Calvintown, that kept people in prisons, lined the pockets of those in charge, he planned to move back to his old town and help the citizens, buying the Calvintown Gazette and hiring Simon as a photographer.[5]
Worried for Alex
With the situation apparentely resolved, Kelly concentrated on celebrating her and Alex's date-aversary, wenting at CatCo in order to ask Kara a suggestion on a gift for Alex, to Which she responded a Schadel XG-1000 motorcycle helmet in matte black. Kelly thanked her saying that she was happy to have her in her life together with Alex, prompting Kara to tell her she reciprocated. That evening, Kelly Brought Alex dinner at the D.E.O. National City headquarters as the latter has to work late, the couple talk about their respective day then Kelly told her that she booked in a waterfront restaurant for their date-aversary, although she specified that she would have carried Obsidian VR contact lenses with her in order to virtually assist at the launch of their new product.
The day of their date-aversary, Alex was late at their appointment and Kelly started to assist the launch of "Collective Dream" being awakened from the VR when the tidal wave caused by Rip Roar approached the city and was stopped by Dreamer. Shaken, the following afternoon Kelly has a brakdown in the bathroom of Obsidian North and is found by Nia, to which she open up regarding her feeling of dread in seeing Alex on the field, since her fiancée also died on the line of duty. Hearing this, Nia comforted her telling that she was there for her as a friend if she needed it. That night, Kelly and Alex celebrate their date-aversary late with a quiet dinner and champagne at their apartment.[14]
Few days later, after Alex was involved in an explosion at the D.E.O. reporting a slight concussion, Kelly stayed at her bedside and, after she woke up, prevented her from came back to work immediately as she was still too weak stating worried that she cant get back in the field if she wasn't 100%. Later, as they were playing cards, Kelly confessed that she was terrorized at the idea of losing Alex as she already losed her fiancée, but their dialogue was interrupted by Brainy, informing them that he had found Leviathan's hideout. That night, Alex told Kelly that she wanted to help her heal from her traumas like she have done with her when they met, due to "feeling home" with her, then they shared a kiss.[15]
Anti-Monitor Crisis
During the evacuation of Earth-38 to save its inhabitants from the wave of antimatter in the Anti-Monitor Crisis, Kelly helped Dreamer, Alex, and Lena to embark the citizens of National City, even shielding few of them from some debrids using the Guardian shield that James gave her before moving back to Calvintown. Then, she went to Earth-1 together with three billion of her world's inhabitants.[16]
Later Kelly, as well as everyone in the multiverse except for the seven Paragons, was killed in an antimatter wave by the Anti-Monitor on December 10, 2019,[17] only to be restored a month later, after the Paragons and the Spectre created a new universe.[18]
New multiverse
Kelly had her old memories restored by J'onn and, few days later attended a briefing at Obsidian North held by Andrea Rojas and also attended by "Gemma Cooper".[19]
Few days later, after Nia broke-up with Brainy, Kelly took part at a diner to cheer her up alongside Kara and Alex, despite Nia's claiming she was feeling fine. Later, that evening, after the Superfriends defeated the Toyman, Kelly, Alex, Kara, Nia, William Dey and Winn Schott had a "game night" at Kara's apartement to celebrate the latter's brief return from the future.[20]
The following day, Kelly helped Andrea with an experiment at Obsidian North, trying to perfect their Premium lenses, however it went wrong as the woman suddently experimented an allergic reaction to the lobster she was eating in virtual reality and Kelly explained it was due to a problem with the algorithm, prompting Andrea to tell her to find a way to fix it.[21]
Rewritten reality
In a rewritten reality created by Mr. Mxyzptlk to show Kara how the world would have been if she and Lena had never became friends, National City was governed with the iron fist by an insane Lena, turned into a Metallo by Lillian, while Kelly was part of the resistence alongside Alex, J'onn, Winn, Mon-El and Nia. She fought the brainwashed Brainy alongside her girlfriend and Nia, while J'onn took care of Lena's henchman Reign and Winn, Mon-El and Mxy infiltrated the D.E.O. to retrieve the Hat's Fifth Dimensional hat in order to allow the imp to retrieve his powers and bring himself and Supergirl back to the former reality.[22]
Personality
---
This section is a stub. You can help expand this section by adding some information.
---
Powers and abilities
Powers
Abilities
Peak of human physical condition: As a former military Kelly is presumably in top of physical condition, she has proven herself to be extremely nimble and agile, such as when she shielded few citizens from some debrids during the evacuation of Earth-38.[16] She's also very athletic, regularly engaging in jogging[8] as well as various sports courses and activities.[23]
High-level intellect/Psychologist: Kelly is very inquisitive and insightful to everyone, she is able to understand others' emotions and predict their behavior, knowing exactly how to treat people and advise them.[7][10] Her knowledge is so remarkable that even Brainy praised it and after she entered James' mind, she was able to use her skills to help him overcome his trauma.[1] She was also able to help J'onn regain most of his erased memory,[3] and her charisma often leads her to make others spontaneously open with her about their problems even after they have just met her.[9]
Equipment
Guardian shield: A built-in shield that expands and retracts both automatically and on command; James wore it as Guardian and left it to her after moving back to Calvintown.[16]
Appearances
Supergirl
DC's Legends of Tomorrow
Season 5
Trivia
Behind the scenes
Kelly is a character created exclusively for the TV Show

Supergirl

as in the DC comics, Jimmy Olsen is an only child in its Golden Age, Silver Age, and modern incarnations.

With her being promoted to series regular of the fifth season of Supergirl, Kelly became the second main character who doesn't originate from the DC comics, along with William Dey and after Alex Danvers.
References
Community content is available under
CC-BY-SA
unless otherwise noted.