"In this version of history, the Vikings stayed and conquered all of North America, or as it's called now, New Valhalla."
New Valhalla was an aberration caused by the anachronism related to a Beebo toy, which ended up in 1000 AD's Vinland, carried by young Martin Stein. The project was hijacked by Damien Darhk, disguised as Odin, but ultimately averted through the efforts of the Legends.
History
Aberration timelines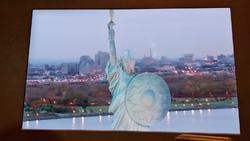 Worshiping Beebo as the God of War, the Vikings under Freydís and Leif Eriksson started the conquest of America despite the warnings from Christian priests. Successful in their conquest, they covered all of Vinland and beyond, creating the realm of New Valhalla, which became so influential that it had "Beebo Day" supersede Christmas and Yuletide as the prime winter solstice holiday.
In another aberration, Beebo was destroyed, but now Damien Darhk hijacked the Viking colonists and continued the conquest, resulting in him propagating "Odin's Day" as the new winter solstice celebration.[1]
Current timeline
Due to the efforts of the Legends, Beebo "informed" the Vikings that Jesus Christ is the one true God, but that doesn't mean science and evolution aren't real. This, along with Damien Darhk's escape, influenced Leif Eriksson to abandon the New Valhalla plans and return to Scandinavia.[1]
Known Locations
Aeglegården
Akranes
Bregentved
Breiðhatóftir
Djúpidalur
Ebeltoft
Essetofte
Haraldssun
Højtoft
Innriholmur
Langatóftir
Laugarbrekka
New Oslo
New Reykjavik
Ravndal
Toftir
Appearances
DC's Legends of Tomorrow
Season 3
Trivia
Behind the scenes
Interestingly, there's a hamlet of Valhalla located within the town of Mount Pleasant, in Westchester County, New York, United States, in the New York City metropolitan area.
References
Community content is available under
CC-BY-SA
unless otherwise noted.