Spider-Man: No Way Home Trailer Dropped - The Loop
Play Sound
Nichelle Payne (died 2019) was the younger sister of Yvette, the estranged wife of Kito Payne, and the mother of Khalil Payne and the late Keenan Payne.
Biography
Early life
Nichelle was born and raised in Freeland alongside her older sister Yvette.[1] As an adult she married a criminal and drug dealer, Kito Payne, and had two sons with him, Keenan and Khalil Payne. After her husband was incarcerated for possession and trafficking of drugs and unregistered weapons, as well as aggression and resistance to arrest.[2] she was forced to work overly hard to provide for her sons,[3] however the older one, Keenan, became a petty criminal and started to sell drugs for The 100, eventually getting shot and killed by a rival gang at the age of fifteen.[2]
Mother of Painkiller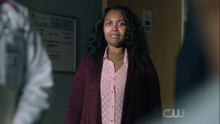 In 2017, following her younger son's paralysis, Nichelle began working even harder than before to pay for his hospital bills. When the doctors came to give the news that his spine was completely severed, she came with Jefferson Pierce to give him the bad news.[4]
Some time later Khalil leave Freeland with Tobias Whale and, after he returns as Painkiller, he visited Nichelle,[5] giving her some money and a burner phone in order to contact him. Later, while looking for a way to get to Tobias, Black Lightning confronted Nichelle and convinced her to call her son and arrange a meeting between the two of them.[6]
Khalil's escape
After Khalil and Jennifer Pierce run away from Freeland, she was visited by Tobias, who asked her where to find her son. Nichelle told him she doesn't know, and, even if she had known, she would not have revealed it to him, earning the criminal's respect who, before leaving, wondered how could have been that such a strong woman had given birth to a "weak boy" like Khalil. Later, Nichelle went to the Pierce house and gave Lynn the address of her sister, believing the runaways to be there.[1]
The next day, since Jen and Khalil had escaped Yvette's house, Lynn went to visit Nichelle and asked her to see Khalil's room, finding recent pictures of the boy with his father. Nichelle coldly told her that Kito doesn't mean nothing to her family, and asking him would be just a waste of time.[2]
After Khalil accepted to turn himself in he asked to see his mother one last time an told her he was sorry of everything that has happened, before being dragged away as the woman cried.[7] After her son was hospitalized again due to Tobias ripping his spine from his back, Nichelle went to visit him and break into crying after seeing him.[8]
When Khalil passed away, Nichelle revealed to Jen that she cannot afford to pay for the funeral, so funeral director Wallace oversaw the ceremony arrangements for her son after he was paid by the vigilante "Blackbird".[9]
Death
Nichelle interacted with an anonymous man and Peter Gambi before returning home for the day. Answering a knock at the door, she locks eyes onto a familiar face, welcoming him with open arms. However, she quickly learned that the person was not her son and dies from a neurotoxin that burned through her face.[10]
Legacy
In an attempt to show that he is irredeemable, Khalil reminds people that he killed his mother.[11]
Nichelle along with all of the ASA's victims were avenged when Odell and the ASA's crimes were exposed and he was arrested for his numerous crimes including Nichelle's murder and the ASA was disbanded. In addition, before his arrest, Khalil found Odell as he was trying to escape Freeland and shot him numerous times for making him kill his own mother.[12]
Appearances
Black Lightning
Season 1

Season 2

Season 3

Season 4
References