Doctor Strange in The Multiverse o Madness - The Loop
Play Sound
"Romeo V. Juliet: Dawn of Justness" is the seventh episode of the fifth season of DC's Legends of Tomorrow, and the seventy-fifth episode overall. It aired on March 17, 2020.
Synopsis
Cast
Starring
Special appearance by
Special guest star
Guest starring
Co-starring
Plot
As the scene starts, Ray Palmer awakens close to Nora Darhk, his new spouse. Investigating the different knickknacks he has gathered during his time on the Waverider, Ray reveals to Nora that he thinks they should leave the Waverider and construct a life of their own. While she is at first hesitates, Nora at last concurs. Ray plans "one final mission" with the group before it's an ideal opportunity to bid farewell.
There's a line at the restroom, since Zari is taking forever to glitz herself up, and Ray chooses to break the news to Sara and Ava. Once Behrad, Charlie, and Mick are finished intruding on the conversation, they at last get their opportunity. They tell the group, but Ray can't force himself to break the news to Nate.
On the deck, Sara attempts to convince him to be straightforward with Nate, yet Ray needs to locate the correct second. When Charlie uncovers that she left a bit of the loom in sixteenth Century London, the group advances there, just to find that Charlie had camouflaged the bit of the loom as a ring and gave it off to William Shakespeare. In the wake of shaking him down, they discover that Shakespeare had given it off as guarantee to producer Philip Henslowe to whom he was in the red.
Back on the boat, Ava, Sara, and Mona welcome Nora to join their book club - which obviously is for the most part a social club.
Harking back to the 1590s, Ray, Nate, and Mick plot an intricate plan to heist the ring directly off the editorial manager's finger, in spite of his being encircled by muscle. When they're finished discussing it, however, Charlie has come back with the ring, and Ray is embarrassed to find that the strategic (his time with the Legends) is finished. Subsequent to revealing to Nate that he was leaving for a wedding trip with Nora, Nate persuades the away-group to remain back before and host an Elizabethan unhitched male get-together.
The Legends women all admit their stuff to Zari, attempting to persuade her to get together with book club, but Zari diverts by recommending they arrange a lone rangeress party for Nora. The folks bring in, but lie that there has been an inconvenience with the crucial everybody is prepared to party.
In Hell, the coin producer at the spirit trade sees that John Constantine is alive again and weights Astra into attempting to discover what his arrangement is so they can spare her mother without her, and let John decay.
The scene at that point reduces and forward between the single man party, where everybody is testy and spilling their guts, and the lone wolfess party, where they are doing wild things and hitting the dance floor with a stripper dressed like a fire fighter. It pays off, at last, when Constantine gets a feeling that he's being viewed. He enchants to snd the government operative back to Hell, and thumps Astra oblivious in Hell and out of the physical plane. En route, however, there's a fight in the bar, and the Legends wind up utilizing their forces.
Shakespeare, and a room loaded with others, saw the entire thing, so Nate chooses to mind-wipe them, yet since he's really flushed, he coincidentally mind-wipes the Legends rather and leaves the Elizabethan group befuddled and unaffected. They head back to the Waverider, where somebody at the lone wolfess party sees that a duplicate of Romeo and Juliet on a table has changed into a hero play named Romeo v Juliet: Dawn of Justness.
On the Waverider, Sara criticizes the group for botching the mission while Nate peruses the new play with joy. They need to go to London and fix history. When Nate and Charlie leave to take the hot fireman home, Sara pulls Ray aside to reveal to him that he actually needs to tell Nate. Beam concedes that he wouldn't like to let it out to his closest companion since it will make it "genuine" yet then he needs to bid farewell to Sara.
In London, Shakesepeare's organization is going to begin playing out their Legends-themed play. Beam sends the others to gather the contents to demolish them, while he goes to converse with Shakespeare. He gets a more clear feeling of how to manage Nate, yet it's excessively late: he admits to Shakespeare what the circumstance is, and Nate catches it. On the upside, he persuades Shakespeare to change the play to fit with his unique consummation, which he persuades Shakespeare was better.
On the Waverider, Nate stands up to Ray, irate that he is leaving and that he wasn't straightforward with him about it. At the point when things being what they are, the play is no longer in the verifiable record by any means, and the group needs to return to mind Shakespeare, Nate advises Ray to simply go get Nora and leave, that the Legends will deal with it.
Shakespeare tells the Legends that his maker had pulled back the cash for the creation when his ring was taken, accusing Shakespeare himself. Back on the Waverider, Ray gets together his things and gets ready to leave with Nora. In London, however, Sara is hit by an electrical discharge. She finds an uncontrollably hopeful and improbable arrangement to organize the first-since forever execution of Romeo and Juliet, returning history on target and revitalizing Shakespeare's profession.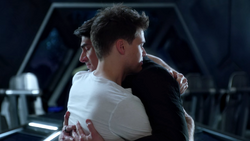 At the point when they're doing it, however, Nate (playing Juliet) separates and can't deal with the way that he blew his opportunity at a genuine farewell with his closest companion. Zari, who clarifies she's a traditionally prepared on-screen character, has his spot and conveys a motivated presentation while Nate gets Ray not long before he and Nora step through a time courier portal back to the present.
Back on the ship, Sara surrenders Nate a buck discourse and offers to be his new sibling figure. Mona urges Mick to contact his little girl revealing to him that he has been a positive impact in her own life and he likely won't botch his child since his father sucked.
When time is fixed and the closest companions have said their goodbyes on the Waverider, the Legends raise a glass to Ray Palmer.
Production
Preparation ran from September 12 until September 20, 2019. Shooting ran from September 23 until October 3, 2019.[1]
Trivia
Goofs
References