For his namesake, see Ronnie Raymond.
Ronnie (born late 2017) is the son of Lily Stein and an unnamed man, and the grandson of the late Martin Stein and Clarissa Stein. He was named in honor of Ronnie Raymond, his grandfather's former half of Firestorm.
Biography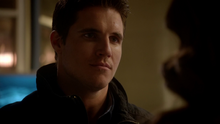 Ronnie was born in late 2017 to Lily Stein and an unnamed man. Shortly after his birth, he was held by his grandfather, Martin Stein. Martin celebrated Ronnie's arrival into the world by having cigars with Jefferson Jackson and Mick Rory, the latter of whom attempted to give Ronnie a cigar as well.[1]
A week later, Ronnie was having trouble sleeping so his mother called his grandfather to sing him a lullaby, which seemed to be the only thing that settles him.[2]
Martin planned to retire from the Legends soon and was looking forward to becoming Ronnie's grandfather full-time, desiring to partake in various activities with his grandson such as teaching Ronnie chess and telling him stories of his adventures as Firestorm.[3] Unfortunately, Martin was killed during the battle against Earth-X's forces. Ronnie attended his grandfather's funeral with his parents and grandmother, Clarissa.[4]
Appearances
DC's Legends of Tomorrow
Season 3
Supergirl
Season 3
References
Community content is available under
CC-BY-SA
unless otherwise noted.