Jurassic World: Dominion Dominates Fandom Wikis - The Loop
Play Sound
"Kara, I know you're upset with him for what he did. I would be too. But that doesn't mean you have to fight this alone."
—James Olsen to Kara Danvers.
"Solitude" is the fifteenth episode of the first season of Supergirl, and the fifteenth episode overall. It aired on February 29, 2016.
Synopsis
Cast
Starring
Special guest star
Guest starring
Co-starring
Plot
In a flashback to her past, the young Kara Zor-El wakes in the Phantom Zone and notices a computer console in her dashboard that lights up with a logo with three dots in a triangular shape, before Fort Rozz's engines activated.
In the present day, Alex entices Kara to come back to the D.E.O., but Kara says no because of Hank "killing" Astra, then heads off to CatCo, where she and Winn once again endured a condescending Siobhan, before being interrupted by Cat asking everyone to attend a conference call. Siobhan shows Cat a package that she should see personally, but Cat wants it open for all to see, so James takes the package and opens it to find a letter and thumb drive. An unimpressed Cat tells Siobhan to have the drive microwaved.
At the D.E.O., Alex and Hank spar and debate over whether Kara should know the truth, and Hank briefly reverts into his Martian form before changing back in an intense moment. He insisted that D.E.O. will continue to function without Kara and revealing the truth will only cause more pain, despite that he didn't want to lose her either.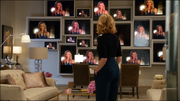 Back at CatCo, James reminds Kara about how he needs to tell Lucy her secret, but Kara says her life is already too complicated and dangerous, before Lucy walks in, conveniently mistaking that their conversation is about the thumb drive and stating that there's nothing she hates more than liars. Just then, the monitors and other electronic devices start to go haywire. A blonde woman appears on all of the screens. She tells Cat that she ignored what was on the drive, and warns her that she will bring chaos to National City. Cat orders Winn to fix the systems. The hacker starts disrupting the traffic signals. Kara, as Supergirl, arrives to prevent a potentially catastrophic accident just in time.
The city begins to panic. Cat tells Siobhan to call her investment broker, but she stammers for a moment before Kara took the assignment. Cat tells James to get every reporter on this latest cyber attack, but as James prepares to cover the story, Lucy is not pleased because Supergirl is involved.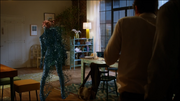 At Kara's apartment, Kara and James watch Winn try to crack the code to no avail when the hacker appears on the screen. Suddenly, she teleports through the computer into the room as a blue woman with a three-dot symbol on her head. As she attacks, Kara is suddenly joined by Hank and Alex, causing the woman to retreat back into the computer. They try to persuade Kara to come back to the D.E.O. because they have the information on the computer. However, Kara is not ready to return.
The cyberwoman teleports through another computer, scares a couple off and meets with Non, who is still grieving over Astra's death. Now calling herself Indigo, she tells Non that Astra's notion of living alongside the humans can't work, and vows to change that so she and the Kryptonians can be only ones left on Earth.
Back at CatCo, Winn offers to help Siobhan make copies, but she is upset over finding that her father was listed as a member of a cheating website thanks to Indigo and leaves Winn to make the copies.
Alex then stops by to ask Winn to help with disabling the malware, which upsets Kara. The frustration prompts James to take Kara to Superman's Fortress of Solitude.
After Kara opens the door with a million-ton key, they find a number of artifacts, including Kal-El's pod. James expresses surprise that Kal-El never brought her to the fortress, and Kara said she always refused because she thought it would remind her too much of home.
When she touched a terminal, Kelex appears and when questioned, tells Kara that she is looking for a Coluan. Indigo was a descendant of Brainiac and a prisoner at Fort Roz for attempted genocide and is considered the deadliest of the escaped prisoners. James thinks Hank should know, but Kara was adamantly against it, saying she isn't in this fight alone.
When James returns, Lucy is upset that he forgot a dinner date and storms off to tell her father about Indigo hacking the military systems. Kara then intervenes and calm down Lucy about James, but Lucy noted that James never told her the story about his first camera and the conversation ends on an uncomfortable note.
Kara admits she misses the partnership she had with Alex and Winn. Lucy theorizes that the attack on the cheating site was actually aimed at a single person—a general who is in charge of a secret nuclear site. They quickly realize that Indigo wants to take over the site and use it to launch nuclear missiles at National City.
At the D.E.O., Winn attempts to track Indigo. Alex wishes Kara was there to help. The two teams simultaneously close in onto Indigo's true plan to destroy the city.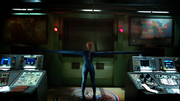 At the military site, Indigo has found her way into the base through the general's phone, and takes out everyone. Kara arrives to fight Indigo, but is forced to abandon the fight when Indigo activates a missile. She attempts to push it off course, but it simply adjusts its path and continued to fly towards National City.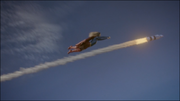 Kara tells James there is no time to evacuate. James warns using her heat vision to destroy the missile may cause it to detonate, prompting her to consult Hank, who guides and helps Kara disarm the missile with a kill code, shutting it off and allowing to plummet harmlessly into the ocean.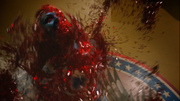 Indigo attempts to launch more missiles before Kara returns to stop her. Winn is about to infect Indigo with a virus that will disable her. Realizing what is happening, Indigo teleports her arm through a phone screen and begins choking him. The virus is effective, and as she lays helpless in front of Kara, she revealed that she was the one who connected both the pod and the ship that bought them to Earth, then disintegrates.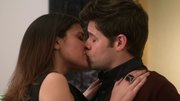 At CatCo, Winn tells Siobhan about his family and how he has felt just like her. Siobhan then kisses him but warns Winn not to say anything. Meanwhile, Kara gives James her blessing to tell Lucy the truth, only to have Lucy tell James that she is breaking up with him, believing that Kara loves James, too, even if she can't admit it yet. Kara also returns to the D.E.O. and ready to work with Hank again.
Alex suddenly comes clean to Kara and admitted to killing Astra because she wanted to protect J'onn, but let him take the blame because she didn't want to lose Kara. Although initially upset that Alex killed Astra, Kara forgives her. While Kara and Alex embrace, Kara reached out to hold Hank's hand.
Finally, Non, using a spinning ball, places it on a console and a new version of Indigo begins to materialize, but in pieces, with Non saying that he wants her to do things his way.
Gallery
Videos
Trivia
Goofs
References