"The Speed Force is eternity itself, an endless void of time and energy."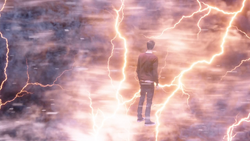 The Speed Force is an extra-dimensional source of energy where Speedsters draw their power to run extraordinarily fast and to utilize a number of abilities including time travel and travelling between dimensions. The Speed Force also acts as a sort of purgatory-like realm for speedsters who when killed appear inside the Speed Force and are offered the chance to leave but without their speed, but will restore their power if they prove themselves worthy enough to wield it again. The Speed Force also has enforcers called Time Wraiths to pursue those who use time travel for selfish or foolish reasons, either killing them to prevent further disruption of the timeline, or to imprison them within the Speed Force itself as punishment. The Speed Force is also somewhat sentient, manifesting itself in the forms of those closest to speedsters within the Speed Force to communicate with them. The Speed Force itself claims to have been around since the Big Bang itself, and will exist until the end of time itself. It is not known yet whether the Speed Force represents a physical and/or a metaphysical aspect of reality itself.
History
"When the first subatomic particle sprang forth from the Big Bang to form reality as you know it, we were there. When the last proton decays, stops vibrating, and plunges the universe into heat death, we'll be there too."
—A manifestation of the Speed Force describes itself to Barry Allen[src]

According to Jay Garrick, Savitar was the first person who the Speed Force "chose" and gave powers to.
After travelling back to the year 2000, Eobard Thawne lost his connection to the Speed Force due to copious amounts of time travel.[1] Fifteen years later, while masquerading as Harrison Wells, Eobard was able to use a tachyon prototype to access the Speed Force, absorbing some of it and allowing him to run at high speeds, and vibrate his body and voice.[2]
Sometime later, needing to remove a small bomb from the Flash's wrist without it exploding, Eobard motivated the Flash to become one with his speed, thus becoming one with the Speed Force, allowing him to better hone his ability to vibrate and phase through a tanker, leaving the band on the other side.
At some point, in
another Earth
, a serial killer named
Hunter Zolomon
became connected with the Speed Force. However, this speedster was proven unworthy due to abusing the Speed Force for his own benefit, such as killing others. He also time traveled recklessly throughout the
timeline
, forcing the Speed Force to clean up his mess. Hunter later developed a
drug
to make him go faster, thus further abusing his speed to terrorize more Earths throughout the
multiverse
. One day, while on an
unknown Earth
, Hunter found out that the drug was killing him and he attempted to manipulate the Speed Force. Because of all of his selfish actions until now, The Speed Force responded by constantly sent
Time Wraiths
after Hunter, since he was proven too much of a threat to the timeline to be alive. However, these efforts were to no avail since the unworthy speedster went into hiding.
When trying to travel back in time to rescue his mother from being murdered, Barry Allen was able to physically see the Speed Force after passing Mach 2, viewing events from his past, present and future all at once.[3] To travel where he wanted to go, Barry had to think about a specific time and place, before transporting into his childhood home and into his bed room, just as his younger self was walking down the stairs to see his mother trapped in the tornado of light, that was actually Reverse-Flash and the future Flash fighting over the younger Barry's fate at super speed.
A few months later, Barry traveled back in time to where his former teacher, Eobard Thawne, was alive since he was desperate to run faster to beat Zoom aka Hunter Zolomon. Because of such an invalid reason, The Speed Force sent a Time Wraith after the rookie speedster. However, this Wraith failed to do its mission, as it was obliterated by outside help from Barry's friends.
When Barry tried to regain his powers through a second particle accelerator explosion, instead of him simply regaining his powers, the will of the Speed Force pulled Barry into itself. It was inside of the Speed Force that Barry discovered that the Speed Force had a personality and could be spoken to. Before the Speed Force allowed Barry to regain his powers, he had to prove himself worthy of retrieving his powers again. In order for Barry to regain his powers, the Speed Force gave him a trial, to catch a dark speeding shadow. The shadow at every stop led Barry to places of great personal importance where the Speed Force manifested itself as an important person in his life to speak to him. During the trial, Cisco created a breach to the Speed Force dimension and a vortex of energy appeared to Barry. The Speed Force told Barry that if he did not complete the trial before leaving, he would be returning to Earth without his powers. By accepting tragedy and moving on instead of letting it define him, the Speed Force allowed him to become a speedster again with the shadow appearing before Barry so that he could catch it. The shadow was revealed to be a manifestation of Barry as The Flash, before Barry transformed into the figure. Barry then left the Speed Force dimension with the help of Iris calling out to him through the vortex after hugging the Speed Force's manifestation of his mother. After defeating Girder, Barry visited Jesse in her coma where he touched her hand and a spark of energy woke her from the coma.[4]
The Speed Force later sent two Time Wraiths after Barry when he created a time remnant during his fight with Hunter. Upon arriving however they discovered Hunter and realizing that Barry used the time remnant to clue them into Hunter's location, the Wraiths spared Barry and attacked Hunter instead, and dragged him into the Speed Force. .[5]
Later, Jay and Barry attempt to trap Savitar for good in the Speed Force by throwing the Philosopher's Stone in a wormhole Barry created. Barry is then shown a possible future where Iris West dies, explaining that either Savitar was freed after being thrown in the Speed Force, or that the Philosopher's Stone will reappear in the future.
Physical manifestations
Lightning coloration
When accessing the Speed Force, speedsters can generate lightning/electricity from their bodies, most noticeably trailing their bodies as they run. The color of the lightning that is generated normally is indicative of the specific type of connection that a speedster has achieved with the Speed Force.
Eye transformation
Users of the Speed Force, sometimes by tapping into their power, can cause their eyes to transform in some way, either by being filled with yellow electricity, which can cause the surrounding skin to glow yellow, shining dark red light or electricity that can even cause the surrounding parts of the face to glow red, the entire eye becoming pitch black or shining blue light. The first occurrence is the sign of a natural connection to the Speed Force and can even manifest for users of Velocity before it begins to degenerate them. The third is caused after such degeneration. It is unknown how the second occurrence originates, and the fourth has shown to solely occur with the self-proclaimed "God of Speed", Savitar.
Inside the Speed Force dimension
When trapped inside of the Speed Force, the body of the speedster will appear in a vortex of electrical energy, while the speedster will be inside a dream world similar to where they are from on Earth, albeit without people. The sentient will of the Speed Force can choose to manifest itself to a speedster as someone in their life and speak to them. The Speed Force can then put a speedster through a trial and choose to give powers to a speedster should they not have them. In the dream world, the trial will manifest as the former speedster having to catch a shadow-like, vibrating blur of motion that moves at superspeed and represents their powers. However, they must be able to remove mental blocks from themselves in order to do so, such as guilt. They must confront the source of their pain and overcome it, which will cause the shadow to come to them and restore their powers. However, the only known way to leave the realm is through a portal made from the outside, while it is unknown if the Speed Force will make a portal for the speedster to travel through, though it most likely can.
As the Speed Force has sentience, it also has enforcers whose mission is to keep time traveling speedsters in check. The Time Wraiths are interdimensional, corpse like beings that automatically hunt speedsters that are a threat to the timeline by moving through time. It is believed that only speedsters who are reckless and without forethought of how their presence in established events could damage the timeline will be hunted down, while more careful ones will not be. They are not always able to find their target immediately but will never stop until they succeed. These creatures are capable of effortlessly following a speedster through time and possibly through other dimensions. They are able to match most speedsters in speed, or by taking it from them and quickly overpower them. Most prominently, they are able to drain a target of life through physical contact and age them to death. It can also drag them through dimensions, though what exactly happens to this particular victim is unknown. It is known that in the process they can physically degenerate a person, causing them to take on a Time Wraith's corpse like appearance while turning their lightning red, as well as some parts of their uniform should they have one on.
Powers and abilities
Powers
The Speed Force enhances all movement, momentum and force exerting capabilities of its user, down to a microscopic level, as well as giving the user conscious control over it. This enhances overall acceleration, agility, reflexes, coordination, balance, and reaction time to inhuman levels. In addition, the body becomes conditioned beyond human potential, allowing them to handle extreme physical exertion and performance, which is also enhanced. The Speed Force is also able to have a sentient will much unlike any element or energy seen in The Flash, allowing access to their energy and properties to be given to a worthy user for them. Users of the Speed Force have demonstrated the following abilities:
Weaknesses
Speedsters may show one or more weaknesses despite their connection to the Speed Force. Whether this hints towards inherent limitations of the speed force itself or just to limitations of its users control over it, is not known for sure, but the latter seems more likely.
Carbine: Speedsters' intangibility has difficulty passing through this compound, requiring them to build up more momentum and change their frequency to pass it.
Cold temperatures: Because speed is produced by a build-up of heat in the target's atoms, speedsters are vulnerable to extremely cold temperatures. It will also temporarily stunt their healing capacities.
Electricity absorption: Speedsters' unique biology causes their body to produce massive amounts of electricity, which charges their molecules and allows them to accelerate their movement. Should a speedster be drained of this electrical energy, they will lose their power. However, the Speed Force is genetically coded to their DNA, meaning they are incapable of losing their potential for enhanced speed. If this electricity is absorbed by another source, all of their powers will be suppressed, including their healing and accelerated perception. Much like an electrical device, which needs to recharge, speedsters must electrify themselves to a great extent in order to jump start their powers once more.
Hyper-metabolism: While moving at accelerated speeds, speedsters burn calories much faster than a normal person. This requires them to consume large amounts of nutrients (about 10,000 calories from a single day of exertion) to maintain peak physical performance. Continued usage of his speed while deprived of such will render them disoriented and weak before ultimately passing out as a result of low blood glucose. Also, because of their accelerated healing, they are unable to be given painkillers, sedatives, or anesthetics, as their body's metabolism burns through them too quickly for them to have any effect. Likewise, even a highly concentrated drug or toxin will only affect them for a few seconds before completely wearing off.
Kinetic energy absorption: Because their abilities are derived from movement, the removal of the kinetic energy built up by speedsters will leave them in a state of temporary paralysis. However, if they can build back up enough kinetic energy within themselves, the effect can be instantly negated.
Nanites: Nanites entering the bloodstream of a speedster will temporarily disable their powers, as shown when a particular speedster was shot with a nanite arrow.
Time alterations: While a speedster's speed allows him or her to break through the temporal barrier, it is not without drawbacks. In addition to potentially causing unforeseeable, damaging changes to the timeline, reckless travels through time can alert the Time Wraiths. These temporal guardians become instinctively drawn to the careless speedster, driven to capture the person who disturbed the timestream and draw the person into the Speed Force with it. Also, as revealed in "Flashpoint", reckless alterations any speedster makes to the timeline can also affect the user's memory, gradually making even him forget how events originally were.
Known users
Earth One
Earth Two
Earth Three
Unknown Earth
Appearances
The Flash
DC's Legends of Tomorrow
Season 2
Behind the scenes
In the DC comics, the Speed Force is an extra-dimensional energy that allows the various Flashes, as well as most other speedsters, to be able to move through time and reality, as well as enhancing their speed and giving them other powers of movement.
A very slight difference found in the lightning generated by speedsters in the series is shape: The red lightning produced by Eobard Thawne's speed trails is notably more serrated, or unstable in form as it flows off of him, while Barry Allen's speed lightning is often smoother, with rounder edges in the arcs of lightning he produces. Savitar's lightning is very blade-like in shape, almost like a scimitar in shape. Zoom's speed lightning also has a unique shape to it as it flows off him, being very straight, with fewer arcs.
When speedsters run, they produce a sound-effect. For instance, when Barry runs, it sounds like electricity crackling. When they Reverse Flash runs, a squeaky sound is produced, and when Zoom runs, it sounds like a high-pitched warping sound.
When speedsters run, a certain sound effect can be heard. When Barry runs, it sounds like lightning crackling, when the Reverse Flash runs, it sounds like a squeaky noise, and when Zoom runs, it sounds like a thunderstorm.
References