Cobra Kai Season 4 - The Loop
Play Sound
"The Book of Reconstruction: Chapter Three" is the third episode of the fourth season of Black Lightning, and the forty-eighth episode overall. It aired on February 22, 2021.
Synopsis
Jefferson is feeling even more lost after a frustrating therapy session. Meanwhile, Anissa continues to care for a still comatose Grace. Lastly, Lynn has a breakthrough.[src]
Plot
Lala has been losing money for some time now because, in his fighting tournaments where he makes money via those who bet upon and watch the matches virtually, he has been betting against Marcel Payton; Marcel has been defeating opponents much larger than himself and is getting paid to release his rage. Lala kills a member of The 100 to release his own rage.
The next morning, Marcel returns to Garfield High School to his teaching job but lies to Jefferson Pierce about the origin of his black eye and other bruises.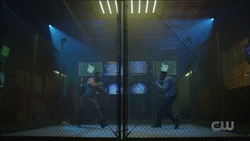 Meanwhile, Jennifer Pierce asks Baron to learn who sent videos that Rebecca Larsen is using to give Lightning a bad reputation.
At the Sanctum, Peter Gambi is researching the Direct Energy Guns (DEGs) and learns that the weapons are incredibly powerful, strong enough to destroy an old Black Lightning suit he used for testing.
Tobias Whale summons Mayor Billy Black and tries to bribe him to demolish the high school but the mayor refuses.
That night, Jefferson follows Marcel and finds the secret fight club; Lala tells Jefferson that it is out of respect that Jefferson is not dead for his demands that Marcel not fight. Marcel gets beaten badly, prompting Jefferson to help the teacher by fighting in the arena himself. Without using his powers, Jefferson wins against Behemoth.
Jefferson takes Marcel to his childhood home and allows Marcel to stay there, so that he can eventually reclaim his family. Jefferson is happy because he has helped someone without being a vigilante.
Grace Choi has awakened totally from her coma; Anissa Pierce is so elated that she marries Grace immediately.
Lightning befriends the young man who sent the videos and gets the unedited version; she has Baron spread the truth via social media, but he does not notice that Jennifer is slowly losing control of her powers.
Jefferson, who had an argument with Lynn about copying meta-human powers, goes home to apologize when he sees a bouquet of flowers with an invention to dinner included. When Jefferson arrives at the restaurant, he sees Lynn having dinner with Tobias; Tobias sent Lynn the bouquet and she assumed it was Jefferson.
Tobias tells Lynn that he will fund her projects without limit if she sides with him.
Cast
Starring
Guest starring
Co-starring
Trivia
References