Cobra Kai Season 4 - The Loop
Play Sound
"The Book of Reconstruction: Chapter Two" is the second episode of the fourth season of Black Lightning, and the forty-seventh episode overall. It aired on February 15, 2021.
Synopsis
Plot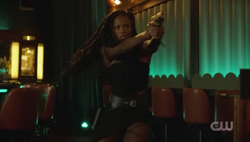 The war in Freeland between The 100 and the Kobra Cartel has its citizens caught in the middle as they battle for supremacy. Chief Ana Lopez declares that the police will be the victors of the war because she, to the dismay of Peter Gambi, has new weapons called DEGs, capable of killing Meta-humans, made by Monovista International.
Anissa Pierce checks on Grace Choi but is not in the mood to deal with her so Anissa has a friendly meal with a male co-worker who is obviously attracted to her. During their outing, the gangsters battle in the middle of the street, after an earlier battle at a party supplied by the Kobra Cartel where Destiny single-handedly killed the attackers. Lightning arrives and the combatants mostly flee, but one remains and targets Lightning. Lynn Stewart is nearby though, duplicating the powers of Wendy Hernandez, and saves her daughter.
During the battle though, Anissa can not save the life of Marcel Payton's child. The teacher quits his job at Garfield High School, though Jefferson Pierce protests. When Jefferson goes outside after work, he sees Tobias Whale awaiting him. Tobias is now immune to electric shock blasts and tells Jefferson that, at his choosing, he will be avenged for the death of Tori, but, for now, he will continue to reinvent his status in Freeland.
Jefferson goes to Gambi wanting to know who targeted Jennifer, but Gambi, who has accepted a job with the Monovista International, refuses to help Jefferson attack another person, so Jefferson gets the information from Baron.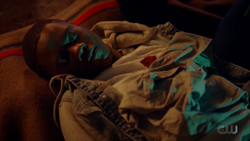 Blackbird has Destiny and Lala kidnapped and brought before her; she tells them that the park will be hallowed ground in their war as citizens try to rebuild their lives from the War for Freeland. The representatives of the gangs agree for their own benefit.
Jefferson goes to the house of the gang member and shows little mercy.
Cast
Starring
Guest starring
Co-starring
Uncredited
Trivia
The in-episode title sequence subtitles this episode as "Unacceptable Losses", but the official title to the episode does not contain the subtitle.
This is the first episode of the series to not feature Chantal Thuy (Grace Choi) after being promoted to a series regular.

However Grace Choi does appear in her cheetah form and thus did still appear in the episode.
Behind the scenes
Though the synopsis mentions Jennifer and school, it is Anissa who has a platonic date with a co-worker.
References