Doctor Strange in The Multiverse o Madness - The Loop
Play Sound
For the

Supergirl

episode, see "

Homecoming

".
For other uses of "The Book of War", see The Book of War (disambiguation)
"The Book of War: Chapter One: Homecoming" is the fourteenth episode of the third season of Black Lightning, and the forty-third episode overall. It aired on February 24, 2020.
Synopsis
As the battle continues, old alliances are revisited and new alliances forged.[src]
Plot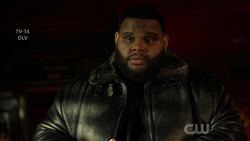 Peter Gambi converses with Dr. Jace, revealing to her that he should have executed her forty years back. Jace discloses to him they're battling on a similar side currently because of the genuine danger Markovia presents and uncovers that Gravedigger is in control just as what he needs: the stable Meta-humans. Jefferson refreshes Odell while Gray is irritated about the way that Tobias Whale figured out how to escape and the Markovians presently encompass Freeland. Jefferson educates Odell regarding Gravedigger. War is coming.
Jenn and Anissa differ about Khalil with Anissa having profound worries about his Painkiller character. Somewhere else, Devonte Jones gathers the cash Lady Eve owes Lala. She persuades him to enjoy the administrations of one of her women, however she has him sedated. At Gambi's, TC checks Khalil's firewall while Gambi gives him a workmanship set to assist him with PTSD. Gambi likewise proposes treatment with Perenna.
At home, Lynn almost falls making supper with Jefferson and she reveals to him she's a junkie and apologizes for her treatment of him previously; however, in the restroom, she recovers a pill of the Glimmer. She admits this at supper and Jen destroys it. The family bonds once more, having given themselves a "fresh start".
Subsequent to medicating Devonte, Lady Eve finds the folder case circumstance and requires a gathering with Lala. She faces him about the briefcase and uncovers that she additionally can control him, much the same as Tobias. Turns out Tobias utilized Lady Eve's innovation and offers to free him.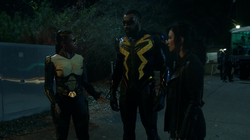 Meanwhile, Anissa vents to Grace about her doubt of Khalil as a result of the Painkiller character. Effortlessness urges her to relax about it, yet a critical call comes from the Perdi. The Markovians discovered them and have slaughtered them. Whoever is left is attempting to get to Freeland. Black Lightning, Thunder, and Grace appear to help. Black Lightning goes to work searching for provisions for these newly displaced people while Thunder and Grace return to help those deserted.
Jen takes Brandon to talk with Jace. He needs to utilize the crystalized cinders of his dead mother to slaughter Jace and the specialist uncovers that his dad may even now be alive. Conversing with Jen later, Brandon attempts to figure out who his dad is based on his powers. While he talks with TC, Jen sees Khalil drawing an image of her as Lightning. They share a sweet moment but he daydreams, glitching. His firewall breaks, provoking Khalil to battle Painkiller inside his own psyche, while in reality, Painkiller is choking Jen. Khalil massacres Painkiller and returns to himself without a moment to spare. Khalil later stays with her on the rooftop to apologize; however, she won't have it and he leaves.
In the wake of removing the eye of one of her lackies, Lady Eve comes to see Gambi. She has the attaché. She can't open it and offers it to Gambi and says her fight with him is finished. TC opens it, causing Gambi a deep sense of joy. He calls a meeting with Lynn and Jefferson, revealing that the United States is liable for the Markovian circumstance, connecting everything back to Gravedigger, who was tested in this manner giving him meta-human powers with the military at last transforming him into an executioner. Gravedigger is Meta Prime and he was the main piece of the program that endured and the administration has been going through decades and heaps of cash to re-create it.
Lynn uncovers that she abandoned the meta help serum in Markovia. Gravedigger now can have any force he needs and he's gone to the United States.
Cast
Starring
Guest starring
Co-starring
References