Jurassic World: Dominion Dominates Fandom Wikis - The Loop
Play Sound
For other uses of "The Book of War", see The Book of War (disambiguation)
"The Book of War: Chapter Two" is the fifteenth episode of the third season of Black Lightning, and the forty-fourth episode overall. It aired on March 2, 2020.
Synopsis
Plot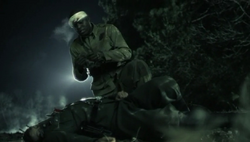 During World War II, Gravedigger fought for his life and country against Nazis.
In the present, Gravedigger makes a video journal regarding why he's doing what he's doing. He says in his journal that the US government probed him 80 years back making him "informally authoritatively" the first meta. He likewise says how he gets his codename, by digging graves for all of his adversaries. He says it felt like the proper activity, as whatever his arrangements for Freeland additionally feels directly for him.
In the lab, Lynn Stewart attempts to understand to what extent the infusions Gravedigger is utilizing and Helga Jace concludes that basically the breaking point doesn't exist. Gravedigger can have unlimited powers without over-burden inconclusively. Peter Gambi says that Gravedigger is in transit and that he intends to reclaim Lynn and Jace and that the administration intends to nuke Freeland as opposed to allow Gravedigger to win. Khalil Payne is on out of town when a truck comes up behind him. It's Markovian officers and they attack him, causing Khalil to open Painkiller and endure.
With no help from the legislature or the A.S.A., Jefferson Pierce begins to detail an arrangement. Brandon Marshall objects since he thinks more about his own advantages than sparing Freeland. In Markovia, Gravedigger says that his arrangement isn't to make a military, but to free the metas. Any individual who rejects his "opportunity" will kick the bucket.
Black Lightning and Thunder meet with Lala, requesting his assistance in battling for Freeland. Lala refuses and Devonte threats them with meta weapons. Black Lightning makes another endeavor to influence Lala, to no avail. Brandon visits Jace in the lab and compromises her in the event that she doesn't come clean with him. Somewhere else, Odell and Lady Eve are driving around with Lady Eve requesting to be let back onto the Shadow Board with her cartel ready for action like never before. She reveals that she realizes the A.S.A. plans to take off all of a sudden and she attempts to make an arrangement with him. Odell needs the satchel. They strike an arrangement.
Lynn makes a revelation in the lab and rushes home to tell Jefferson. Things being what they are, he identifies with Gravedigger; Gravedigger is his distant uncle. At Anissa's, she has a delicate moment to Grace and proposes to her. At Gambi's, TC and Erica attempt to plan for the coming war and the pair wind up kissing. Jen keeps on battling with her father about keeping her in the rear of the fight; yet Jen requests that TC assist her with finding Gravedigger when he shows up in Freeland.
In his brain, Khalil works it out with Painkiller and they battle for control with Khalil winding up secured in the firewall, meaning Painkiller is currently allowed to slaughter the Pierce family. At home, Jefferson battles with the report about Gravedigger. Lynn recommends to Jefferson that on the off chance that it comes down to it, her may need to slaughter Gravedigger to ensure their family. At supper, Grace and Anissa report their commitment as well as that they're getting hitched at that moment with Gambi administering.
Lala meets with Lady Eve, needing data on Tobias. Somewhere else, Brandon has Jace tied up and attempts to get data from her. In the interim, Gravedigger watches security film and learns the forces of everybody collaborating with Black Lightning. Nonetheless, at Anissa's, Jen gets word that Gravedigger has shown up so she leaves. Before long, everybody gets some answers concerning Gravedigger's appearance and it intrudes on the wedding.
Accused up of electrical vitality, Lightning assaults and takes out everybody aside from Gravedigger. Gravedigger attempts to talk and she shoots him with power; yet it does nothing but bad. They battle and he tosses Lightning into the border which makes Lightning be flung into the air. When Black Lightning gets her, her heart isn't beating. He needs to restart her heart and is fruitful. At that point, Gravedigger appears and Black Lightning charges him. The battle is on.
Cast
Starring
Guest starring
Co-starring
Trivia
The in-episode title sequence subtitles this episode as "Freedom Ain't Free", but the official title to the episode does not contain the subtitle.
References