For the titular object, see Willie Cole's acetate.
"The Devil's Vinyl" is the third episode of Constantine. It aired on November 7, 2014.
Synopsis
John and Zed engage in a dangerous confrontation to save a woman and her family from sinister forces. John's efforts force him to confront the darkness in his own life – while also coming face to face with a new powerful adversary in Papa Midnite.[src]
Cast
Starring
Guest starring
Co-starring
Plot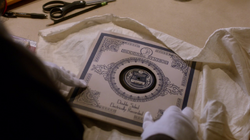 Jasmine Fell broke into an old building with many dead, bloody animals lying around, from squirrels to foxes. Terrified, she decided to go on until she reached the wall with the devilish symbol. She took one brick, finding a hiding place that contained a CD with Willie Cole's recording. She took it and went to Bernie Reed's studio, to whom she passed the find. She asked him to examine the record, asking him not to listen to it. She herself at that time went to talk to her daughter on the phone. Bernie's curiosity gave up, and the man plugged in his headphones, listening to the song. Suddenly he heard a strange noise and his ears started to freeze. Terrified by what happened to him, he stuck a screwdriver in his neck, killing himself on the spot.
Meanwhile, Zed drove up to the mill where Chas Chandler greeted her with a shotgun. The man took her inside, where meanwhile John Constantine, naked, smeared with blood, was learning a spell. After a short tour of the girl, the team looked at the bloody map that showed them Chicago. As it turned out, John found out about Bernie's death, which was not normal. As Zed moved away from the men, Constantine asked Chas to check her out, as she is smart but still doesn't trust her. Soon after that, John and Martin traveled to Chicago, leaving Chandler in Atlanta. They broke into the morgue, where the exorcist, using the hand of glory, temporarily resurrected the dead body of his deceased friend, who gave Constantine the last of his strength, saying that a vinyl voice had done so to him, and mentioned "Moonrise."
Following that, the two realized that their next stop should be the old Moonrise Records where Bernie used to work. According to the information found, its owner, Marcus Mooney, was still alive, so they decided to visit him. Thus they found themselves on the Devonshire nursing ward, where they forced the nurse into the patient's room with an enchanted card. Meanwhile, Jasmine Fell hid the CD at her house when she saw her daughter. The girl admitted to her mother that she could not sleep because she dreamed that someone wanted to take her away. After a moment, she saw the plate shelf begin to freeze, pointing to Jasmine.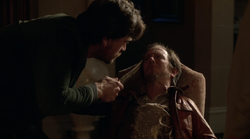 Zed and John started a conversation with Marcus, who told them the story of Willie Cole, selling the Devil's soul, and the vinyl he had hidden. He also mentioned that a detective had visited him some time ago, who asked about the same thing, and that he had read the name "Fell" on the sheet. Suddenly, Marcus had a seizure, and when they all ran out to call the nurse, time stood still, which Constantine was the only one who didn't notice. Manny stood over the dying producer's bed, taking his soul. Soon after, Zed and John broke into the Fell's house. The exorcist believed that a musician, Ian Fell, was behind everything, whom he attacked and accused of murdering Bernie.
After a while, an armed Jasmine appeared, who revealed that she was connected with the whole mess. She talked about a contract signed with a certain Anton, which was to be used as a rescue for her husband who died 20 years ago of cancer. Everything worked out, but now the same soul trader has promised her that he will return her soul in exchange for the "devil's plate". Constantine decided to visit Anton, encountering Papa Midnite, whose people had stunned the exorcist. When he awoke, he was tied to a metal gate, and the enemy injected him with an anticoagulant, then cut his arm open. He decided that he would follow his lead, but did not intend to kill him, and would return to him if the hints were incorrect. Meanwhile, the Fell house was attacked by Midnite's men who took the plates. However, while in the car, they touched the vinyl and started freaking out, believing more people had to listen to it.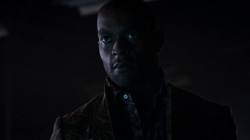 Meanwhile, Zed called Chas to come and rescue him. She herself followed suit, going to save John. After a short time, she found him at the dump, where she chased away the stray who had tried to kill him. Upon Chandler's arrival, the three of them followed the trail of vinyl victims, and even more. They got a chance to reflect the album only thanks to the vision of Martin, which saw a white tiger, thus pointing to the local radio station. As Zed and Chas tried to cut off the transmit signal, John decided to fight the main problem by getting inside with the headphones. These, however, did not fully work, but fortunately for him, Midnite burst into the building, destroying the speakers and demanding a CD from his people. However, they did not intend to do it, and this opportunity was used by Constantine, who sent the vinyl to Hell with a spell, which angered the criminal. However, he did not have time to take revenge, as the exorcist escaped. Immediately after that, the team returned for Anton, whom she had brought to the Fell's house. She forced him to eat the contract, which was tantamount to undoing his terms and restoring Jasmine's health and bringing back Ian's illness. After that, the team returned to Atlanta where they found a moment to rest.
Trivia
Zed and Chas mention that Constantine's headquarters are larger on the inside and that its dimensions change. In the comics this place is known as the "House of Mystery." It made its comic debut in House of Mystery #1 in December 1951. It is known for being able to change its dimensions and location of its rooms, having a "mind" of its own, and for having both Constantine and Swamp Thing as caretakers.
The charmed playing card Constantine uses to fool the nurse shares many similarities with the psychic paper from Doctor Who.
The exorcism Constantine uses on the Acetate begins the same as the exorcism commonly used by Sam and Dean Winchester on Supernatural.

Papa Midnite uses a Winchester, a reference to that other pair of demon hunters, Sam and Dean Winchester of Supernatural.

The backstory to this episode, about a bluesman who sells his soul for success and later disappeared, echoes the story of legendary blues guitarist Robert Johnson. Johnson is reputed to have sold his soul at a crossroad to become a genius guitarist, and died at the age of 27. Some say that Johnson was the first to be part of the 27 club/curse. 27 club/curse is famous people who all died at the age of 27 most of them musicians.
Goofs
References