For

The Flash

episode, see "

There Will Be Blood

".
"There Will Be Brood" is the fourteenth episode of the sixth season of DC's Legends of Tomorrow, and the ninety-sixth episode overall. It aired on August 29, 2021.
Synopsis
When Astra and Spooner find themselves as stowaways, they learn that Constantine is still chasing the Fountain of Imperium and find themselves in 1920s Texas. With the rest of the Legends stranded, they come up with a plan to get help by using Rory as bait that will also help reunite him with something that is special to him. Meanwhile, Spooner learns some information about her past that she wasn't expecting.[src]
Plot
Zari goes to Constantine's home and discovers a wreck of glass and blood. She defies Constantine, who asserts he's inclination over and above anyone's expectations. Minutes after the fact, the group comes in behind her to ask where Bishop went. Constantine concedes that she's aiding Bishop now. They before long acknowledge they're managing a projection of Constantine. On the Waverider, Bishop and Constantine seize the boat and take off, with Astra and Spooner still ready.
Astra and Spooner stow away (mystically) while Constantine and Bishop figure out their objective to discover the Fountain. After some conversation, they graph a course that drives them to Texas in 1925. Astra and Spooner understand it's dependent upon them to stop Constantine and Bishop. Before long after showing up, be that as it may, Spooner runs over an amazingly natural lady when the lady begins to help a harmed man. Spooner believes it's her mom, however she can't clarify why. Spooner helps the lady, Gloria Cruz, in aiding the man, yet the manager comes over and needs the harmed man sent right back to work. The supervisor then, at that point attempts to purchase the lady's property, however she denies. She's more than once denied his deal and when he goes to scare her, Astra and Spooner step in, pushing him away. Gloria needs to say thanks to them with a hot supper and Spooner is more persuaded than any other time in recent memory that the lady is her mom. Astra hesitantly goes with her.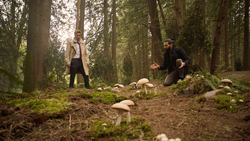 Somewhere else, Bishop and Constantine go searching for the Fountain yet think that it is evaporated. Constantine is disturbed, yet Bishop uncovers that the mushrooms they've found there are a decent sign, recommending that the mushrooms (which are clearly an outsider living thing) are associated with the Fountain which is an outsider being. Priest says he can take a few examples and make the Fountain "combine" with him. Spooner and Astra visit with the lady. She recounts her biography, including that she has a little girl. That girl is playing close to the Fountain and Constantine goes to talk with her. The young lady is gathering mushrooms for her mom, who is a healer. Constantine shows her a portion of his enchantment. She gives him a blossom, however when he contacts it, something occurs and he asks her name. It's Esperanza Cruz, youthful Spooner. Youthful Esperanza returns home and carries Constantine with her. At Constantine's home, the remainder of the group is attempting to sort out some way to stop John also and Mick is freezing about his eggs. They choose to contact Kayla and choose to post a photograph of Mick with counterfeit eggs on what is basically outsider Instagram and label Kayla in it to bait her there. It takes a little, however the arrangement works and Kayla appears. They fill her in on the circumstance. Mick additionally discloses to her that he has genuine affections for her. Kayla hesitantly collaborates with them to save the eggs.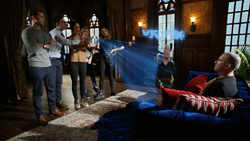 At supper, Spooner talks a bit with her more youthful self before she and Astra get a private second with Constantine. Constantine takes everybody out and afterward shows Spooner her mom's real destiny. She's killed by the bad oilman from prior that very evening and youthful Spooner runs into the forest where she falls and damages herself, draining onto the wellspring which flags the Fountain, which is an outsider, who removes her. Constantine discloses to her that she can save her mom. Spooner discloses to Astra that she will do it, that she will remain and save her mom to allow her more youthful self an opportunity at a typical life and she gave Constantine her blood as he inquired.
On the Waverider, Bishop gives Constantine a serum he's made. It will clean Constantine momentarily and in this manner stunt the Fountain into accepting that he's commendable. Astra stands up to Constantine and advises him to return to the group, however he passes her over and discloses to her that her mother would turn in her grave in the event that she realized that Astra was fiddling with enchantment. He sends her back to Spooner's mother's home where, adequately sure, the oilmen appear. Spooner uncovers to Gloria that she's her little girl later on and that she will secure her.
Astra alerts Spooner that her activities will change history. Astra truly doesn't have any desire to lose her companion. Gloria discloses to Spooner that they need to allow history to play out the manner in which it should. She reveals to Spooner that she turned out to be by and large the individual she trusted she'd be and that she was intended to discover her once more, there before. Astra says she will get Esperanza to the Fountain, Spooner should remain with Gloria. At the Fountain, Constantine pours Spooner's blood to bring it and it works. The Fountain shows up.
Gloria says a mournful farewell to youthful Esperanza then, at that point goes outside with Spooner to talk with the oilman. Notwithstanding, with the Fountain dynamic, Spooner currently has wizardry and when they raise their weapons to shoot Gloria, she utilizes it to stop them, causing them to feel the aggravation she felt. She drives them away similarly as Astra and Esperanza show up at the Fountain. The Fountain takes Esperanza similarly as before.
Kayla takes the Legends to Texas 1925 and they discover the Waverider. Zari acknowledges Constantine won't be on the boat so they choose to "follow the irregularity" to discover him. The remainder of the Legends get on the Waverider to save the eggs and find that Bishop has manipulated the hatchery to detonate. They hurry to snatch the eggs, yet one is abandoned. Mick returns to get it, and the bomb goes off.
At the Fountain, Constantine uncovers he took the serum from Bishop and utilizations it on himself since he was certain that Bishop planned to take it to use on himself. Nonetheless, Bishop's arrangement from the start was something different. He harmed the serum. With Constantine connected to the Fountain, it will likewise kill the Fountain. Cleric then, at that point uncovers that the Fountain was given to Earth by kind outsiders to shield it from others. Killing it will make it open season. Cleric, irritated that people hold preventing him back from doing what he needs to "save" them, chooses to simply annihilate everything to begin once again.
The Fountain passes on and with it youthful Esperanza. Spooner collapses also. Astra hurries to Constantine's side and he discloses to her he's completely out of stunts. He passes on and his body is taken by the remaining parts of the Fountain.
Cast
Starring
Special appearance by
Guest starring
Co-starring
Gallery
Videos
Trivia
The episode title is a reference to the movie There Will Be Blood as well as the fact that the episode features Rory and Kayla's brood.
It is revealed by Bishop that Earth's mushrooms are actually an ancient alien species that protect the planet.
It is shown that Spooner has been misremembering her past the entire time, due to being a child when it happened. She was never abducted by aliens and experimented on; she was sent into the future by the Fountain of Imperium and granted magic by it.
Constantine dies a whole nine years early; ironically avoiding his future death due to cancer in 2030. Unlike the previous time he was dying (from Astra messing with his soul token) and even tried to go out on his terms, he accepts his demise with dignity.
The house where Gloria lives was previously used in Once Upon a Time as the house of Zelena, the Wicked Witch of the West.
Bishop's endgame involves the forty-eight Necrian offspring of Kayla.
Nate breaks the fourth wall by asking the commonly-asked fan question of why the Legends didn't keep the time couriers on them, to which Ava states "Don't even get me started."
Goofs
In the official press release for the episode, Adam Tsekhman's name was misspelt as "Adam Tsekham".
When young Esperanza tells Constantine her name, the audio does not match up with how her mouth moves, indicating that this introduction was added through ADR.
References