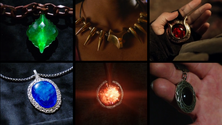 Hundreds of years ago, the six tribes of
Zambesi
were under attack. They prayed to the gods for help and their prayers were answered. Each tribe was given a
totem
to protect it, each with a different elemental power to aid in the defense of the tribes; Air, Water, Fire, Earth, Spirit, and Death. When combined, the totems' powers can be used to create a powerful weapon, "something pure."
[1]
List of Totems
Capabilities
Elemental control: Each totem gives the user dominion over the element the totem controls. With training, a person's control over their element becomes stronger.
Totem bond: The totems have the ability to bond with their owners. The spirit totem bonded with Mari McCabe to the point where it couldn't be removed without a specific spider bite. The air totem bonded with Zari to the point she could summon it even if someone else is using it.
Totem connection: All the totems can link together and allow bearers to communicate with each other.

Guardian creation: The totems are capable of banding together to create a being of pure light to vanquish the darkness. The Spirit, Fire, Water, Air and Earth totems can combine their powers to create a being powerful enough to imprison a being as powerful as Mallus. When the power of the Death Totem is added, the totems can create a being powerful enough to kill an immortal being like Mallus.
Known bearers
Appearances
DC's Legends of Tomorrow
Season 5
References
Community content is available under
CC-BY-SA
unless otherwise noted.