Roleplay Posts
Hi, TimeShade.
I was wondering the possibility of allowing Roleplaying Posts in the app. I believe it would work out great if the moderators made them around the same time as the Off-Topic Posts.
KeshavHI (talk) 19:44, June 2, 2017 (UTC)KeshavHI
Harrypottertheflashthearrowfan and AbbryBro2008 Unnecessarily Reporting another User
Sorry to bother you but the user "Harrypottertheflashthearrowfan" has went through all of the posts of another user and has unecessarily reported them.
Update: The User "AbbryBro2008" has also joined "Harrypottertheflashthearrowfan" in unecessarily reporting the user's posts
KeshavHI (talk) 20:40, June 2, 2017 (UTC)KeshavHI
Nyssa's mother
Hello TimeShade, I have a quick question. On the show, Nyssa's mother was mentioned to be named Amina Raatko but on the comic book tie-in there was this character named Lourdes, who was revealed as her mother. Now there are two different pages, one for each character so I am wondering, should we merge them? Are they the same person? Maybe "Loudes" is just an alias. Is the comic book non-canon and therefore the character is also non-canon? Another character from the same comic book, Saracon, Malcolm and Lourdes' son, is included in the family bio of Malcolm, Tommy and Thea so I guess he is treated as canon, though Lourdes is not. What should we do about it?--TG90 (talk) 14:49, June 4, 2017 (UTC)
Bobbi Clements Spamming
The User "Bobbi Celements" has been warned twice to stop spamming off-topic posts but has continued to do so. In all of his posts so far, he has uploaded nothing but Minecraft videos with the title "Jojo".
I explained to him that this is a fandom for Arrow, Flash, Legends of Tomorrow, Supergirl, and Constantine and not for Minecraft but he never responds.
Scam Bot
Sorry for writing so much lately, but I believe the user "BarryAllen73" is a bot. The "user" has uploaded 3 posts within the same minute all linking to an invite code on the website "www.oppoos.com". These 3 posts are the only posts the user has made this far.
KeshavHI (talk) 14:05, June 6, 2017 (UTC)KeshavHI
Conjecture
If an alias is an appropriate title, then why are Ras, Zaman Druce and Declan in that category?Ninja72 (talk) 08:46, June 8, 2017 (UTC)

Sorry, I did not know that they were not added by an admin.I removed them from this category.Ninja72 (talk) 15:05, June 8, 2017 (UTC)
Arrowverse Lover331 Ban Request
Hi TimeShade, the user "Arrowverse Lover331" has made many Off-Topic posts despite many warnings, so I request for the user to be banned
KeshavHI (talk) 23:31, June 21, 2017 (UTC)KeshavHI
Re: Trivia
Thanks for the heads up. I was actually still working on the page and didn't mean for it to post yet. Thenchick 23:28, June 22, 2017 (UTC)
Unlock Arrow Season 6
Hi, could you unlock the page for Arrow season 6. I feel it's important to update whenever new information becomes available and I can't do that since it's 🔒. Thank you for your time. Jrock16 (talk) 22:15, June 28, 2017 (UTC)
Sharing Video Links
Hello TimeShade,
Well I would like to share an idea of a new rule in the Discussion Board. It is about sharing links of websites. I've seen people are sharing links to YouTube videos and other videos from different websites link just without any reason. Here's my idea of the rule : If anyone wants to share links to YouTube videos regarding theories then must atleast explain their views on it. Also if its a random video of a particular scene of any Arrowverse show then it should be having a reason for sharing (for example; pointing flaws, easter eggs, etc.). 
THANK YOU 
BatBrandOfJustice (talk) 09:02, July 2, 2017 (UTC)
Sharing Memes
Can sharing memes in the Discussion Board be against the against the Community Guidelines? There is a user named Arrowverse Lover331 who keeps sharing memes in the Discussion Board. We have asked him/her to post in the OT Posts but he/she keeps posting on the board. Please reply so we could ask the user to stop it.
THANK YOU
BatBrandOfJustice (talk) 10:01, July 11, 2017 (UTC)
User:Director of A.R.G.U.S
User Director of A.R.G.U.S keeps messing with the Template:Delete page saying it doesn't belong on the wiki, can you talk to him or block him, thank you.--Typhuss999 (talk) 20:00, July 12, 2017 (UTC)
Black Canary Suit III
Hi TimeShade,
Why do you keep deleting my Black Canary Suit III page. You must have seen the new Arrow Season 6 trailer were Dinah Drake wears the suit. Earthquake1 (talk) 17:08, July 24, 2017 (UTC)
User:Riyan Jackson
This guy is messing up the timeline page since January. Although he is kind of improving the page by adding new events, he does not use proper formatting, which messes up the page. Could you please talk to him or block him?Ninja72 (talk) 14:17, July 26, 2017 (UTC)
Updating Guidelines
I believe rule #3 should be updated now that we don't do Free Talk Friday:
3. Off-topic conversations will be deleted. Every other Friday, however, there will be a Free Talk Friday thread.
I also would like to talk to you about a specific user when you have the chance
KeshavHI (talk) 14:57, July 26, 2017 (UTC)KeshavHI
Hey TimeShade. ZSomji16 vandalized my user page, can you please block him? -- ImperiexSeed, 3:56 PM, July 28th 2017
Hey TimeShade, 
I'm confused. What about the blog I wrote about Metamorpho? It was like the Red Star one that I wrote. I know Red Star doesn't exist in the Arrowverse, however, I thought it be a good idea if he appeared. What about my other blogs? 
-NightSlayer2 
Hi TimeShade, 
I plan to make a blog on what my ideas are for Legends of Tomorrow season 3. So, I use this: Special:CreateBlogPage.— to create my blog? Right?
-NightSlayer2 
Follow Up
Hey TimeShade!
My name is Ariana - I work at FANDOM with Mike (CavalierOne) and he told me that you two had a chance to chat about a special project. Mike is out of town right now, so I wanted to reach up with a follow up question if that's okay!!
Are there specific types of exclusive content you love or prefer – whether it is behind the scenes /making of content, interviews with the cast and crew, concept artwork, spoilers/leaks, social content like memes and gifs, or just great speculative content like fan theories/discussion?
If you can let me know your top choices from the paragraph above, I can try to make it happen! (Mike also mentioned the possibility of a set visit- we'll see what we can do on that too :) )
Thank you!
Asnow89 @
(profile)•(talk) 17:15, July 31, 2017 (UTC)
Hi, TimeShade
I had this idea but someone said that I had to run it by you.
Since Barry Allen was running through the Speed Force and we caught a glimpse of The Flash from the 1990's which kind of indicates that the Series from the 1990'S is actually another Earth... I was thinking of adding pages about that Earth. What do you think?
--Jeremy96 (talk) 03:49, August 14, 2017 (UTC)Jeremy96
Count Vertigo
Shouldnt we move the page to Cecil Adams, now that we know his real name.?Ninja72 (talk) 10:00, September 17, 2017 (UTC)
Page for deletion
This one too please The Flash Season 4 Rumors Page --Stryzzar (talk) 01:13, September 18, 2017 (UTC)
General Discussion Forum
Can you please change the description to something like "This Board is for general discussion about Arrowverse"?Cloudtheavenger (talk) 03:16, September 18, 2017 (UTC)
While I have your attention, can you please tell me if there was any verifiable evidence that Clark was friends with Lex Luthor as Clark Kent or as Superman? Jimmy never explicitly stated Lex was friends with Clark or Superman, so it's possible it could have been like Smallville.Cloudtheavenger (talk) 03:29, September 18, 2017 (UTC)
I was referring to non-episode canon material such as comic books since I do not believe it was explicitly mentioned in season 2 of SG, but thanks!Cloudtheavenger (talk) 04:06, September 18, 2017 (UTC)
Hi! The script (and the closed captions, actually) confirm that Ray Palmer's brother is "Sidney," not "Sydney." I have included a screencap of the script, with the correct spelling, and I would be happy to also confirm with a screenshot of captions from either Amazon, Netflix, or the DVD. Thank you!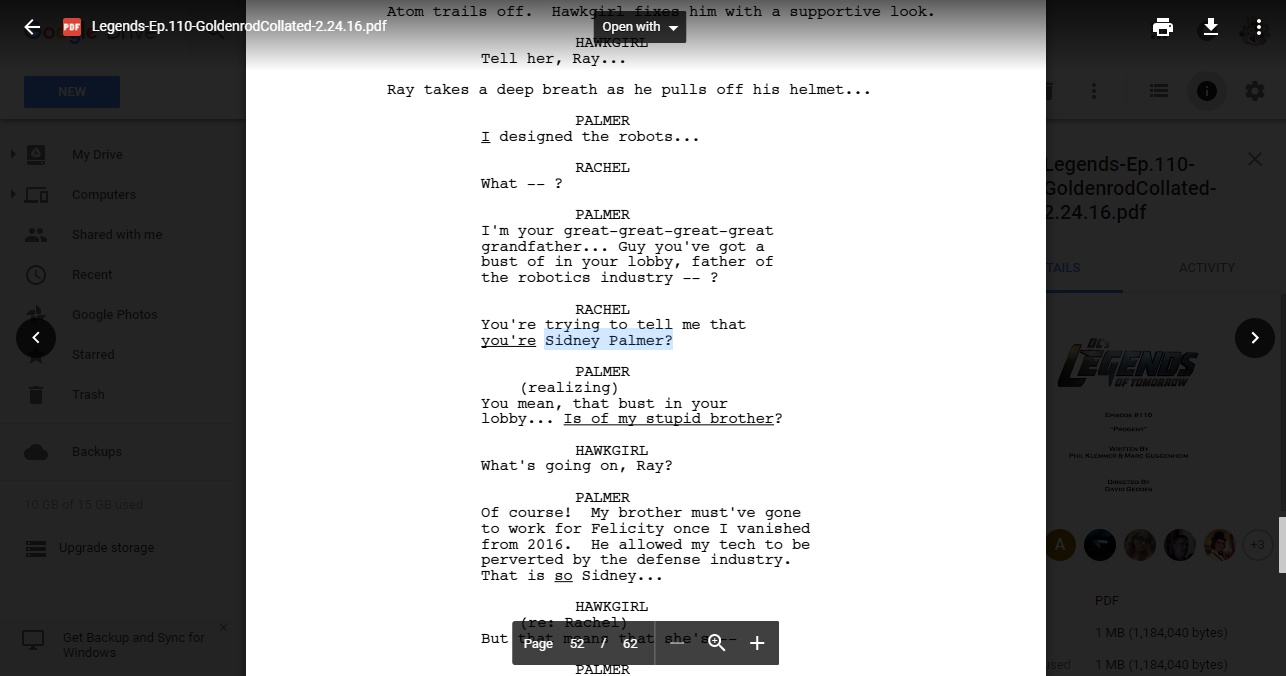 Oh, i just saw your message. How do I request this? 
Areyouarealmonster (talk) 04:05, September 19, 2017 (UTC)areyouarealmonster
Sources
Hello there. There are several reliable sources that reveal the titles of the crossover episodes: https://segmentnext.com/2017/08/21/arrowverse-crossover-episode-names-indicate-greater-threat-dominators/ http://www.spoilersguide.com/supergirl/episode-guide/season-3-episode-8/ http://www.returndates.com/news.php?id=784 https://simkl.com/tv/49108/the-flash/season-4/episode-8/ https://www.tvtime.com/en/show/279121/episode/6229995
Savitar300 (talk) 23:54, September 24, 2017 (UTC)
User BalmoreB
This user keeps adding information without using any source. Since you're an admin, you could tell him off. Every time he makes a post, Director of Shield usually undoes his work because there are no sources cited. If what he wrote was true, someone else has to find the source. His edits are more of a chore than beneficial.
More and more users are adding content without proof. Chinkycandie (talk) 08:34, September 30, 2017 (UTC)
Kryptonians
Can you please explain to me why "red sun" is listed as a kryptonian weakness? Just because it doesn't enhance them doesn't make it a weakness. Also, I am fairly convinced whoever put the Kryptonian weaknesses there is copying and pasting them from another wikia.Cloudtheavenger (talk) 20:24, October 5, 2017 (UTC)
DUDEPLZSTOP
You might want to do something about this person. Completed deleted all the content on the Supergirl page (not the season). Replaced the content with something to do with boobs. Chinkycandie (talk) 23:28, October 10, 2017 (UTC)
Not advertising
It is not advertising, it is another article about the same subject but that covers more than one television universe. You got a reciprocal link on Hudson University on TWU. The article on my wiki gives a bigger view of the subject. Check out the article on my wiki with the link to yours at the bottom before removing the link here. What I added to your article here is what I wrote there too, but there are more Hudson Universities. Lady Aleena (talk) 01:14, October 18, 2017 (UTC)
P.S. If Fictional companies had an article on Hudson University, I would have added it too. I have no problem with cross wiki linking if the articles are about the same or very similar subject. Lady Aleena (talk) 01:19, October 18, 2017 (UTC)
Speedsters
Are there even other ways to become a speedster othen than the Speed Force. Have we ever seen a speedster, who does not have a connection to the Speed Force (not counting Trajectory as she was not a real speedster). If someone is a speedster, then he is a speed force user, plain and simple. And for some reason, everytime a new speedster appears, you the admins say that it is "not confirmed" that he is a speed force user and you remove it from the Speed Force page. You have done that with Zoom, with Savitar and with Accelerated Man.Ninja72 (talk) 17:22, October 19, 2017 (UTC)
My bad, I didnt see that you already left message on my talk page. I still disagree with you about that, but I will back off, because  this is not my wiki and I am not the one, who should decide how things are done here.Ninja72 (talk) 17:23, October 19, 2017 (UTC)
Special Guest Cast
Do we now add a "Speical Guest Cast" section to season pages? This user keeps adding them to certain season pages and I keep undoing the edit but he told me that past season pages have that section but I remember in the past getting rid of that section of someone added it so I want to know if we now add that section or if the user is incorrect. The Director of S.H.I.E.L.D. (talk) 02:42, October 20, 2017 (UTC)
Arrow Season 4
I just noticed that the Season 4 (Arrow) page does not have Neal McDonough as Damien Darhk listed in the cast list even though he was the main villain that season. Since the page is locked I was hoping you could add him to the cast list. Thanks, The Director of S.H.I.E.L.D. (talk) 00:48, October 21, 2017 (UTC)
Warden Wolfe Page
There are two Warden Wolfe pages on this wiki. Either one has to be deleted. http://arrow.wikia.com/wiki/Wolfe
http://arrow.wikia.com/wiki/Gregory_Wolfe
Riyan jackson
This guy s block just expired, and he is again editing the Timeline page, but using external links for internal pages. Can you please do something about it? He has been doing it since January. (And by the way it is my birthday today)Ninja72 (talk) 20:14, October 26, 2017 (UTC)
Thanks, I turned 16 on that day. Also, thanks for blocking him.Ninja72 (talk) 09:24, October 28, 2017 (UTC)
Metas
Considering that every non-particle accelerator meta is considered a questionable one, shouldnt we put the people under the speed force dark matter wave meta-humans section  under the characters with other sources of mutation sectio?.Ninja72 (talk) 23:48, November 2, 2017 (UTC)
Is the way I just did it ok?Ninja72 (talk) 23:59, November 2, 2017 (UTC)
Subpages
Have you guys considered using subpages? The main characters' history/biography are getting ridiculously long. When someone messes those sections up, its more time-consuming to check where the errors are or to clean it up.
On my anime wiki, we use subpages for this section and the character pages look so much more clearer.
On a separate topic, the reason I added a few episode stills is because there are times when I stream the episode online and sometimes they begin to lose their quality/blur (especially the fighting scenes :( ). Happens on Youtube too. Chinkycandie (talk) 09:06, November 6, 2017 (UTC)
While you bring up a fair point, I admin 3,650+ pages on my own perfectly well. Not bragging, but it is doable. Only about 30 of those pages are subpages.
I'm the only active user on that wiki. Chinkycandie (talk) 09:36, November 6, 2017 (UTC)
Collapsible sections seem like a good idea. We use them mainly for templates though (on my wiki) XD Chinkycandie (talk) 00:18, November 8, 2017 (UTC)
RE: Images
Okay thanks, I'll keep that in mind but the image I uploaded was comic book cover. In that case what should be the category/license for it? THANK YOU. BatBrandOfJustice (talk) 04:04, November 12, 2017 (UTC)
Talk Page
Hi, please stop destroying my talk page. We can have our own rules in them and I don't want admins showing off their fandom experience. Thank you, SkyNeon (talk)
BalmoreB
This user is back again adding information without proof/sources. I don't think this user listen or follows any policies on the wiki. Chinkycandie (talk) 22:50, November 13, 2017 (UTC)
Hey timeshade can you put a comment bourd why cause it mostly hard to write down comments on reference!.
Earth X pages
Why are the Earth X pages been deleted?.BatBrandOfJustice (talk) 16:01, November 23, 2017 (UTC)
Different timeline versions of characters
Hello, you deleted my page about Flashpoint Caitlin, I am sorry because I didn't know. I have seen pages like this on another wiki, about Flashpoint versions of characters. I want to read the rulement, because I don't want to do another error like this. Where can I read it? Can people decide about this topic? If we have to do different timeline characters' pages?.
RE: Creating Pages
Got it, though I was planning on writing a description for those pages.
Thatgamerfromxbox (talk) 04:15, November 28, 2017 (UTC)
Can Felicity Smoak be chaged to Queen her and Oliver did just get married please
Catagory
Oh, I'm sorry! I didn't realize, it just looked like a missed oppertunity. Are you saying don't put 'Director' or don't put 'Director (Arrow)' or both?? --~ Lorisa! (talk) 10:43, November 29, 2017 (UTC)
Btpowers91
Hello TimeShade, could you possibly deal with this user who has been putting out of universe titles in villain character pages? Seriously, it's becoming spam at this point. SuperBen 1000000 (talk) 05:15, November 30, 2017 (UTC)
We tried to talk to him on his talk page about it, he didn't listen, so whatever you can do to help would be great, thank you.--Typhuss999 (talk) 05:22, November 30, 2017 (UTC)
Metallo (Earth-X)
Some users believe that Metallo (Earth-X) is a cyborg, not a robot. As a result, they have added that information into the Metallo (Earth-X) page. However, I don't think Metallo is a cyborg, but just a robot. Other than Metallo's voice sounding like John Corben's, there is absolutely no evidence that he was once human and now a cyborg. However, that is not enough proof that he is a doppelganger of John Corben. Also, the previous Metallos also mantained some of their human appearances. This Metallo appears completely robotic. So, should we add that Metallo is a cyborg, or a robot?
Thatgamerfromxbox (talk) 16:00, December 3, 2017 (UTC)
Hello TimeShade, there is this user who keeps putting Malcolm Merlyn's status as Unknown (presumed deceased) but actually John Barrowman confirmed that Malcolm Merlyn will not return in Arrow Season 6 and he died permanently in the season finale of Arrow Season 5. Could you please ban this user. Thanks,  ----
Leo Snart
Hello, can you please write in this page that Leo Snart appeared in "Beebo the God of War ". Thanks. Itamar20112 (talk) 14:55, December 6, 2017 (UTC)
Toaster
I hope it's still eligible. I'm actually hoping to make an article about cooking in the multiverse, so it might fit somewhere in there. --Тостер (talk) 23:40, December 6, 2017 (UTC)
Chat
We can chat now if you like, if you have time.--Typhuss999 (talk) 05:29, December 11, 2017 (UTC)
Template idea
Hello. So when I go on a page of a location shown during time travels in the past or the future (example: Ivy Town Elementary ) some stuff that could have changed between the year it was shown and 2017. Sometimes it's even hard to realize what pages are like this and I think it would be nice having a template like:
"When are we?" - Pilot, Part 2 (DC's Legends of Tomorrow)
This article is from a <Page Type> that was seen in the <time>. Things may have changed between <Year> and 2017.
<Page Type> : Can be character, object or location.
<Time> : Can either be future or past.
<Year> : The year The Waverider (or the Speed Force) transported the Legends (or the flash) to.
Thank you,
SkyNeon, 09:56, December 14, 2017 (UTC)
Chas Chandler as a vigilante
Ninja72 says that you've said to him on Discord that Chas Chandler is not a vigilante. From a legal standpoint he is - look for John Constantine's team interaction with Jim Corrigan in Danse Vaudou: they are acting as classical vigilantes, patrolling the streets for certain criminals and preventing crimes on spot, even though such are comitted by ghosts. Also Chas downright kills Felix Faust for his illegal magical crimes and to prevent him stealing more souls, icluding that of his daughter. At this point, btw, we could have actually introduce the term "superhero" to deal with the problem, although that has even more vague definition. In the comics Chas is mainly a mysterious supporting character, while on the series he is quite an interesting spin on superhero with powers. As Ninja mentioned specifically that you've said that demons are not in law's jurisdiction, but they were also dealing with everything from serial killers (The Man, adapted from the comics) and other magic-abusing criminals. --Тостер (talk) 20:42, December 15, 2017 (UTC)
Caitlin
Hey TimeShade, why did you undo my edits? Caitlin clearly doesn't like Barry. To name some of examples, she was going to let Savitar kill Barry, she didn't even thank him when he gave up his job to saver her, and she smirked at the thought of Barry being in the Speed Force. She's pleasant with everyone else, this is pretty easy to see. I know a lot of people don't want this to be the case, but that doesn't make it untrue. -- ImperiexSeed, 8:24 PM, December 17th, 2017