Jurassic World: Dominion Dominates Fandom Wikis - The Loop
Play Sound
For other uses of "Vigilante", see Vigilante (disambiguation).
"Well, I'm—I'm conflicted about this. I'm not gonna lie to you. I'm a police officer, duly sworn. I don't condone vigilantes or vigilantism. Once people start taking the law into their own hands, you're on the road to anarchy. But there's worse things out there than anarchy, and sometimes, as much as I hate to admit it... the police aren't enough to deal with it all."
A vigilante is an individual who takes the law into their own hands, believing that the police and the court system are unable to or unreliable at bringing criminals to justice. However, not all vigilantes are fighting for justice, some do it out of personal revenge or antagonistic reasoning. It is also common for vigilantes to take on a moniker to be known by, some by personal choice and others by having been named by the public.
Some vigilantes eventually gain a level of popularity and admiration from the general public that they begin to be seen as a "superhero". Despite the name suggesting this term is reserved for individuals with superhuman powers, it may also be used to define individuals without any but instead rely on combat skills, intellect or gadgetry.
While most vigilantes typically exist outside of the government, some have been given amnesty due to the positive effects that came from their actions. Some have gone so far as to be fully pardoned and even deputized as superheroes officially working more closely with law enforcement.[1]
History
After the Queen's Gambit sank in North China sea, Oliver Queen was stranded on Lian Yu and learnt archery from Yao Fei Gulong. When he returned home, he started to become a vigilante under the names on The List his father gave him. He later got assistance from John Diggle and Felicity Smoak to act as a vigilante team. He is known as the Hood in 2012, the Arrow in 2013 and Green Arrow in 2015.
In 2013, the S.T.A.R. Labs particle accelerator exploded due to malfunction. The explosion created people with powers and are named as Meta-humans. The explosion also caused Barry Allen to receive super speed and became a vigilante to stop rogue meta-humans. He later got assistance from Cisco Ramon and Caitlin Snow to act as a beacon of hope for Central City. He is also known as The Streak in his early vigilante career and gained the name The Flash as well as the stylized name Scarlet Speedster.
In 2015, the Flight 237 was about to crash and destroy the city. Kara Danvers, a Kryptonian refugee stepped up and saved the aircraft. With the help from Winn Schott, she got a suit similar to Superman and became the hero Supergirl.
In 2166, an immortal emperor known as Vandal Savage ruled the world and killed Rip Hunter's family. He later went back in time to 2016 and recruited 8 vigilantes and criminals who are insignificant to the timeline. They later time-traveled across time to hunt down Vandal Savage and his allies. Rip Hunter named his team as Legends as they will be significant to the timeline if they succeeded in the mission. After defeating Vandal Savage and destroyed the Time Masters, they started to protect the timeline from Time pirates and aberrations.
Three years after Bruce Wayne left Gotham City, Kate Kane returned home and accidentally discovered the secret identity of Bruce Wayne. When her ex-girlfriend was kidnapped by the Wonderland gang, she asked Luke Fox to alter the Batsuit to fit her and became Batwoman.
After Kate mysteriously disappeared, following the explosion of her private jet, she is presumed dead and a woman named Ryan Wilder discovered the Batsuit among the wreckage and briefly assumed the mantle of Batwoman, but she gave the suit back to Luke Fox and Mary Hamilton after concluding that she is not worthy to use it. But after saving Gotham's citizens, Ryan received Luke and Mary's blessing to operate as Batwoman in Kate's place, at least until Kate returns, becoming the second Batwoman and part of the Bat Team in the process.
Nine years after retiring to put himself in less danger, Jefferson Pierce finds that his daughters Jennifer and Anissa Pierce have been kidnapped. Giving him a wake up call to return to action as Black Lightning in order to fight for Freeland once more. Once again being helped by Peter Gambi who made him a new suit for his return.
During the Crisis, the Paragons and Oliver Queen went back in time to the Dawn of Time and formed Earth-Prime. After defeating the Anti-Monitor, Barry Allen formed a group of the greatest of heroes.
Known vigilantes
Heroes
Villainous vigilantes
Known vigilante teams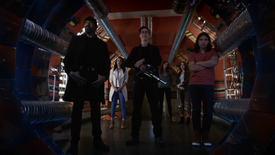 Heroes
Former vigilantes
Heroes
Criminals
Trivia
References