For other uses of "Vigilante", see Vigilante (disambiguation).
"Well, I'm--I'm conflicted about this. I'm not gonna lie to you. I'm a police officer, duly sworn. I don't condone vigilantes or vigilantism. Once people start taking the law into their own hands, you're on the road to anarchy. But there's worse things out there than anarchy, and sometimes, as much as I hate to admit it... the police aren't enough to deal with it all."
A vigilante, also known as a "mask", is an individual who takes the law into their own hands, believing that the police and the court system are unable to or unreliable at bringing criminals to justice. However, not all vigilantes are fighting for justice, some do it out of personal revenge or antagonistic reasoning. It is also common for vigilantes to take on a moniker to be known by, some by personal choice and others by having been named by the public.
Some vigilantes eventually gain a level of popularity and admiration from the general public that they begin to be seen as a "superhero". Despite the name suggesting this term is reserved for individuals with superhuman powers, it is also used to define individuals without any but instead rely on combat skills, intellect or gadgetry.
While most vigilantes typically exist outside of the government, some have been given amnesty due to the positive effects that came from their actions. Some have gone so far as to be fully pardoned and even deputized as superheroes officially working more closely with law enforcement.[1]
Known vigilantes
Heroes
Villainous vigilantes
Known vigilante/superhero teams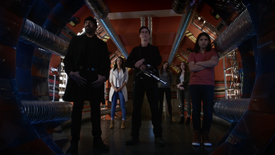 Heroes
Former vigilantes
Heroes
Villains
References