Doctor Strange in The Multiverse o Madness - The Loop
Play Sound
"The Greens have been silenced. The ones who thought they were better than us. We are now one pure hive."
White Martians are a species originating from the planet Mars.
Overview
White Martians are an aggressive species that emerged from underground, they are cruel and ruthless beings who view themselves as a superior race to all, their disdain for "lower creatures" is so great that they will slaughter them all to prove their self-perceived greatness, even more, they revel in other's suffering, as they captured all the Green Martians and sent them into camps, where women, children and useless men were exterminated by burning them alive and the ones they left were forced to work as slaves. They are ruled over by a council of White Martians. White Martians practice marriage, and arranged marriages are also present in their culture
The White Martians worship the god H'ronmeer and have such respect for him that they kept his high priest M'yrnn J'onzz alive for centuries, even though he was a Green Martian. However, this did not stop them from torturing M'yrnn, to extract valuable information from him.
However, some White Martians, such as M'gann M'orzz, have a sense of justice, honor and good morals, she is the most wanted creature to the eyes of the White Martians empire given her treachery during the purge of the Green Martians, the council wants to see her dead more than J'onn J'onzz did. M'gann returned to Mars and found that there were other White Martians that held regret and believed that their purge of the Green Martians was something they took too far.
Physical appearance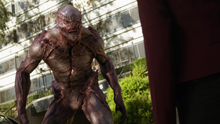 White Martians are monstrous, bipedal creatures standing at about 8 feet tall by default, but they can easily change their appearance.
History
Original multiverse
The first White Martian was Phobos, one of H'ronmeer's sons.[1]
The White Martians lived under the surface of the planet Mars. One day they emerged from underground apparently wiping out the entire race of the Green Martians, leaving J'onn J'onzz as the sole survivor; however, it is later revealed that they did not wipe out all the Green Martians, as they were turned into White Martians by the latter who injected them with their own blood.
It is likely that the White Martians had some contact with the Kryptonians, as Astra knew they had exterminated the Green Martians, while her husband seemed to fear the White Martians.[2][3]
M'gann M'orzz felt their purge was wrong and tried to save as many of the Green Martians as she could though they were killed when her actions were discovered. She then fled to Earth where she eventually worked quietly in an alien bar in National City. She then met and befriended J'onn J'onzz by initially pretending to be a fellow Green Martian survivor though her ruse was soon discovered. While initially distrustful of her after the revelation, J'onn eventually forgave her and they went on to form a Martian Bond. The bond grew deep enough that they even started to fall in love with each other. Her people then discovered M'gann on Earth and sent assassins, including her old comrade Armek, to eliminate her but their attempts were thwarted. M'gann then left to return to Mars to try to find other White Martians that held the same feelings and virtues that she did. She found that there were fellow White Martians that shared her feelings and when National City was in trouble by Rhea and her invasion, they arrived to help defend it against the Daxamites.[4][5]
About a year later, a White Martian imprisoned at the D.E.O. came out of his cell with other prisoners when the Green Martian, M'yrnn J'onzz accidentally destroyed the building's containment system after a violent crisis. Immediately the Martian recognized M'yrnn's presence and went looking for him. When he found his target, the White Martian came into conflict with J'onn who quickly took over and defeated the White Martian.[6]
New multiverse
A white Martian attacked National City the day before the 2020 Peace Prize Award Ceremony but it was quickly stopped by Supergirl.[7]
Believing that his wife was replaced by an imposter, Barry Allen proposed that she might be a White Martian; he dismissed the idea, feeling that J'onn J'onzz would have sensed that type of being.[8]
M'gann M'orzz came to Earth to help to stop a sun-eater from eating the sun;[9] she stayed in order to assist the Superfriends in their battle against Leviathan[10] and started a relationship with J'onn J'onzz.[11]
Nyxlygsptlnz told bandits that enraged White Martians and Phantoms were on their way to get them not to kidnap Supergirl and to flee; later, she revealed that she was lying.[12]
Powers and abilities
Powers
Most White Martians have abilities that are not possessed by normal humans. These include;
Abilities
Multilingual: White Martians are capable of learning to speak other languages very quickly.
Weaknesses
Fire: If they are shape-shifting, any part of their body that comes close enough to touch fire

partially transform back into its true form, which could be used to expose them.
Fatal injuries: M'gann managed to kill Armek by stabbing him in the head with a metallic pipe, indicating that White Martians cannot heal from fatal wounds, as they would instantaneously die before they can regenerate. However, this may apply only to fatal brain damage.
Maaldorian atmosphere: The air of Maaldoria contains a special sulfide that is toxic to the species of Martians, Green and White both.
Photographs: The eyes of White Martians distinctively glow in photographs, though it may be limited only to when they shift into a form different than their original.
Known White Martians
Appearances
Supergirl
Season 1

Season 2

Season 3

Season 4

Season 5

Season 6
DC's Legends of Tomorrow
Season 5
The Flash
Season 6
Trivia
Behind the scenes
In the comics, White Martians are a race of telepaths and shapeshifters from Mars.
References