House of the Dragon Trailer - The Loop
Play Sound
"Why are you doing this? I'm exactly like you. I only steal from the rich."
Winnick Norton[1] is an elusive international jewel thief who operates under the codename "The Dodger". As a thief, he only goes after pieces from the Ominous Decade, and his modus operandi is to use a hostage to procure the item by attaching a bomb collar to their necks.
Biography
Early life
Winnick Norton reportedly achieved only a grade 6 or 7 formal education. He had a history of juvenile offenses, including three counts of theft.[2]
At some point, the Dodger started forcing people to use explosive collars to steal things for him.[3]
Sherwood Ruby theft
In 2013, he placed an explosive device in the neck of a museum guard named Jerry and forced him to steal the Sherwood Ruby. After he takes the jewel, he leaves the hostage unconscious.
He later meets Cass Derenick to sell the stolen ruby. Cass attempts to rob him, and has three of his men put their guns to The Dodger's face. The Dodger tasers all three of them, and shoots Derenick in the head.
Later, Oliver Queen and John Diggle ultimately went after him, hoping to take him down. He unfortunately locks a bomb to Felicity Smoak's neck, when she catches him stealing the decoy. The Dodger is later taken out with his own "shocker" after Oliver causes his car to crash using an arrow, as a dagger.[3]
Joining the Renegades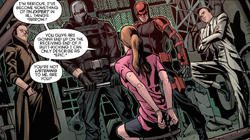 During The Undertaking, Norton escaped from prison[2] and eventually began operating out of Blüdhaven as part of a mercenary group called the Renegades. On Clinton Hogue's orders, they kidnapped and held Felicity Smoak hostage.[4] Norton recognized Felicity, reminiscing about their previous experience involving a bomb collar. Suddenly, The Arrow, Arsenal, and The Huntress crashed in from the ceiling. Arsenal took on Norton and Cyrus Vanch. Before he could take them both down, Norton aimed a gun at Arsenal, but accidentally hit Vanch instead. Norton was promptly shot by an arrow, but not before Arsenal was electrocuted by Lyle Bolton. Soon enough, Bolton also electrocuted everyone else and held Felicity and The Huntress hostage.[1] The Huntress eventually knocked out Bolton and rescued Felicity. The vigilantes tied the Renegades up before anonymously tipping off the police, leaving the mercenaries to be arrested.[5]
Abilities
Equipment
Appearances
Arrow
Season 1
Season 2
Season 4
Comics
Arrow: Season 2.5
Behind the scenes
References